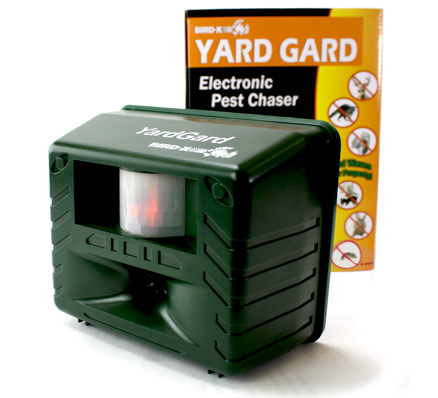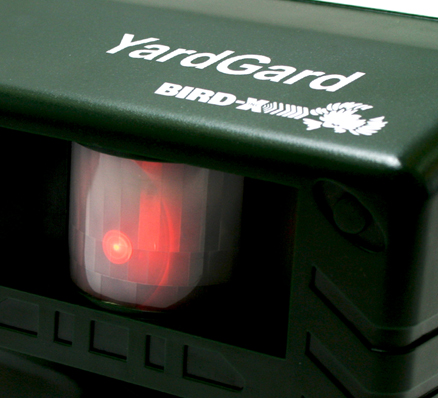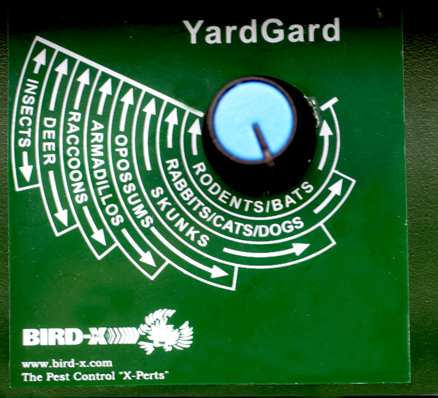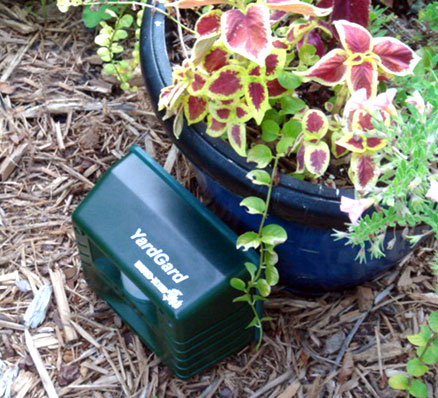 Loading...
Backed by our 30 Day Electronics Performance Satisfaction Guarantee AND our 6 Month Manufacturer's Warranty Against Material Defects.
Yard Gard

Silent, Ultrasonic Pest Control Device

Humane Pest Control for Unwanted Yard Animals


Harmless to Humans, Pets, & Birds

Inexpensive, Effective Solution


Money-Back Guarantee!!
High-Tech Pest Control Made Easy. Humanely keep pest animals out of your yard without poisons or traps.
Safely repels rodents, squirrels, deer, raccoons, feral cats, skunks, opossums, armadillos, rabbits, bats, wild pigs, & much more!
Helps prevent the spread of ticks, including those that carry Lyme Disease
Water & weather resistant; p

rotects up to 4,000 sq. ft

Safe, energy-conscious, green, non-toxic

Easy to operate - can be set to either constant or motion-activated
High-frequency soundwaves (silent to most humans) irritate & annoy common yard pests, making them to seek calmer, untreated areas.
Reviews

Short and to the point: Yard Gard works! For years, we've had a problem with raccoons getting into our garbage. In fact, one time I had a Rubbermaid garbage can with a snap lid and a bungee cord holding the lid on. The next morning I woke to see that the can was toppled over and the garbage pulled out. I put the Yard Gard on the steps next to the garbage can and nothing has disturbed our garbage since. In fact, I decided to really test it and I left a can, without a lid, and some tempting food scraps sitting right on top. Nothing got into it! I love this thing!
–Laulin from MI

We purchased this item for cats. Our neighbor has about eight cats, some of which are strays. They would constantly come over and use our yard and front porch as their potty. We purchased the Yard Gard and it works FANTASTIC. The cats are no longer coming over and our neighbor is also pleased.
–Anonymous

Problem: dog poop in my front yard every day for two weeks. Solution: from the day I started using the Yard Gard, my problem with thoughtless neighbors who were allowing their dog to poop in my front yard COMPLETELY ENDED! This product was worth the investment.
–Sahar from Queens, NY

For 20 years, I bought all kinds of squirrel and raccoon repellers. They had been destroying the bird feeders I regularly hung in my yard. In desperation, I bought the Yard Gard, concerned that if I cut down the raccoon visits I might lose the birds in the process. Yard Gard has done the trick - more than we ever dreamed possible! I am only sorry I didn't discover this about 20 feeders ago!
–Linda from St. Paul, MN
Details
Deters pest animals with ultrasonic (nearly silent-to-humans) sound waves

Built-in infrared motion detector activates when pests move into its coverage zone
Red indicator light when unit is active
Continuous or motion-sensor operation modes
Mount Yard Gard anywhere with keyhole slot (mounting hardware is included)
Applications
Built especially for small outdoor areas. Effective coverage up to 4,000 sq. ft.
Effectively Repels:

Ideal For Use At:


Gardens, Lawns, & Backyards

Patios, Porches & Courtyards

Mudrooms & Semi-Enclosed Spaces

Barns, Farms, & Stables

Boats, Docks & Marinas

Front & Side Yards

Koi Ponds

Garages, Basements, Attics

Community Gardens & Parks

Greenhouses
Benefits
Cut recurring cleanup & repair costs
Prevent the spread of diseases, such as rabies (bats)
Keep parasites, such as ticks, mites, & fleas, away from your property
Protect gardens, lawns, & trees from pest animal damage
Increase/maintain property aesthetics
Decrease nuisance for residents, workers, customers, & other visitors
Add & Combine
For maximum, sustained success in your bird control efforts, a synergistic approach is recommended. Synergy is the interaction of two or more forces producing a combined effect that is greater than the sum of their individual effects. We often recommend companion products – combining sonic repellent devices with visual scares or scent and taste aversions. This kind of multi-sensory attack is extremely effective in deterring pest birds from an area permanently.
Companion Products:
Terror Eyes Bird Spikes: Stainless Steel Bird Proof Gel Nature's Defense Animal Repellent
Specs
Unit Dimensions: 6.75" x 5.5" x 3.5"
Box dimensions: 10" x 8" x 4" / Shipping weight: 3 lbs
AC Power Cord Length: 30 ft (all versions)
Coverage: Up to 4,000 sq. ft.
Motion Sensor Range: 35' x 70'
Frequency Range: 15 – 25 kHz (adjustable)
Sound Pressure: 90 dB @ 1 meter
Working Current: <200mA
Power Supply: 4 x 1.5v "C" batteries or 120 VAC adaptor
Unit switches to battery power during a power failure (if batteries are in)
Electricity Costs: less than $0.25 per month
EPA Est. 089624-CHN-001. CE marked
Download Yard Gard Instructions