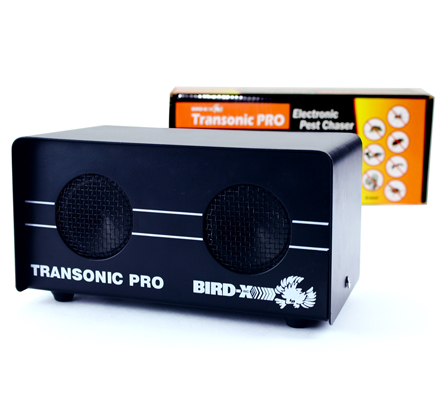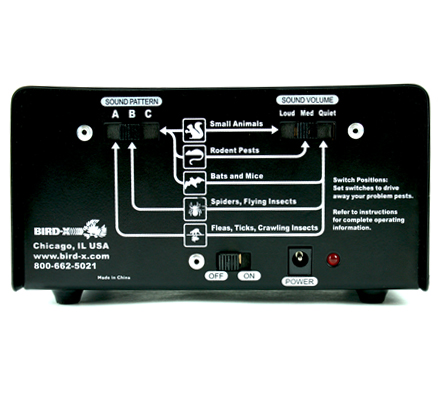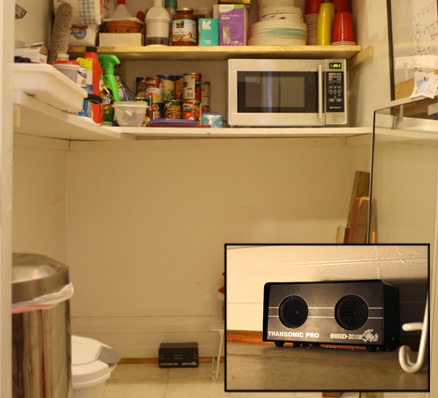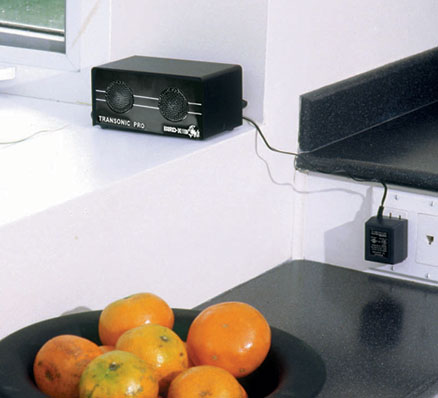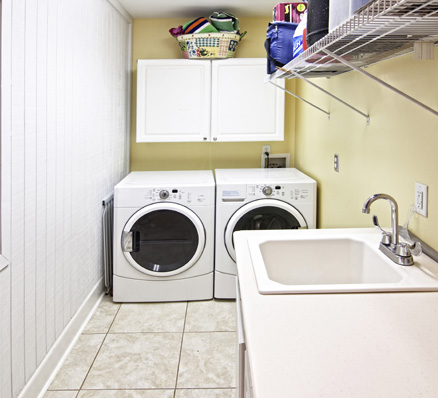 Loading...
Backed by our 30 Day Electronics Performance Satisfaction Guarantee AND our 6 Month Manufacturer's Warranty Against Material Defects.
Transonic PRO

Ultrasonic AND Sonic Electronic Pest Control System



Low-Profile Indoor Electronic Repeller



Easy to Use, Safe, & Extremely Effective



Money-Back Guarantee
Safe Indoor Pest Control. This Best-Selling electronic repeller couldn't be simpler - just plug the device in to repel rodents, bats, spiders, & more. Combines both sonic (audible) & ultrasonic (silent-to-most-humans) sound waves.
No chemicals, no traps - humane, green, safe solution

Sounds disrupt pests' communication, feeding habits, & habitat

Five custom settings available, Easy to operate
Simple, discreet, cost-effective solution

Safe to use around children & pets

Covers up to 3,500 sq. ft
*Independent laboratory & university testing has proven ultrasonic & sonic sound technologies to be effective forms of pest deterrents.
Testimonials

No more pest droppings! We have been using Transonic Pro for about two years all together. We used to have hundreds of bats on our outdoors porches hanging from the cedar beams in the summer creating piles of poop. The stucco walls were covered with white streaks. Then about two years ago, we went on the Internet and starting researching bat repellers. I found the Transonic Pro and set it up on our front porch. After about two weeks, the bat population started decreasing. That summer, we had fewer and fewer bats so we purchased two more Transonic Pro units for other locations. No more bat poop. We were finally able to repaint our house. We read that the unit also deters mice, so we started using them in our workshop area, as well. What a difference! We used to catch four or five mice each week. Now, we never see mice and they no longer chew paper towels and carboard. Thank you so much!
–Mae & Tom D from Skull Valley, AZ

Worth it's weight in gold – it works! I ordered this product seven days ago. I bought the Transonic Pro due to mice and rat infestations in my home. I haven't seen or heard any mice in my home since the day I plugged the unit into my wall outlet. I heard a mouse scrambling to exit my premises shortly after I plugged it in. This product works! I can be used indoors and outdoors and it has different settings for raccoons, skunks, squirrels, bats, rats, mice and crawling or flying insects. Get yourself a rodent repeller that works if you need one!
–Mary A.

Our lake house was plagued with squirrels for years. The wood siding was riddled with holes. We patch one and the darn squirrels chew another hole nearby. One weekend we saw daylight through one of the bedroom walls where the critters had chewed completely through! We tried Bengay, chicken wire, traps, etc. Nothing worked. Then we purchased the Transonic Pro. No more squirrels! We have two units in the attic of our lake house that work perfectly to keep squirrels away!
–Mike H. from Alabaster, AL

Squirrels and raccoons, beware! This thing WORKS! It will sendd rodents running/packing their bags. If you have a squirrel or raccoon problem, I would recommend you buy a Transonic Pro to get them out and seal the entry/access points so they don't return.
–Anonymous

Many people are too kind to kill pests. Most would be happy to have an electronic unit, such as the Transonic Pro, rather than the drastic measure of killing pests. The Transonic Pro is ideal for Wallabies and Possums. They really work! You've proved it is possible to repel birds, possums, & wallabies using your equipment.
–Leone from Australia
Reviews
Details
Low-profile electronic pest repeller
Sonic & ultrasonic sound frequencies
Side-by-side speakers increase effectiveness exponentially
Sounds disrupt pests' habitat, interfering with their communication, feeding habits, etc.
Humane and non-toxic – no chemicals, traps or exterminator needed
Five settings available
Safe to use around small children & pets
Covers up to 3,500 sq. ft.
Independent laboratory & university testing has proven ultrasonic & sonic sound technologies to be effective forms of pest deterrents. Pests are repelled away from your Transonic Pro unit because they cannot adapt to the constantly changing array of ultrasonic & sonic signals emitted by the device. The unit disrupts the pests' habitat, affecting their feeding & communication habits, forcing them to leave the area. The unit is safe for use around humans, children, & pets such as dogs, cats, birds, & reptiles.
Applications
Built especially for indoor & semi-enclosed areas. Effective coverage up to 3,500 sq. ft. per unit.
Effectively Repels:

Ideal For Use At:


Attics & Basements

Garages & Crawl Spaces

Homes & Storage Sheds

Semi-Enclosed Balconies & Porches

Laundry Rooms & Offices

Kitchens & Break Rooms

Restaurants

Greenhouses

Farms, Barns, Ranches, & Cabins

Docks & Boat Houses
Benefits
Prevent pest droppings on premises
Eliminate the need for toxic pesticides
Reduce health & liability risks associated with pest infestation
Prevent the spread of diseases such as Histoplasmosis & rabies (found in bats)
Prevent the spread of ticks & other parasites
Increase/maintain property aesthetics
Decrease nuisance for residents, workers, customers, etc.
Safe, effective alternative to poisons & traps
Add & Combine
Specs
Dimensions: 6" x 3" x 3"
Box dimensions: 9" x 9" x 4" / Shipping weight: 2 lbs
Coverage: Up to 3,500 sq. ft.
Frequency Range: 3–40 kHz
Sound Pressure: 96 dB at 0.5 meters
Power Consumption: Less than 5 watts
EPA Est. 090813-CHN-001
Power Supply: 110 VAC
Includes unit, AC adaptor with 6 ft. cord, complete instructions
Case Studies