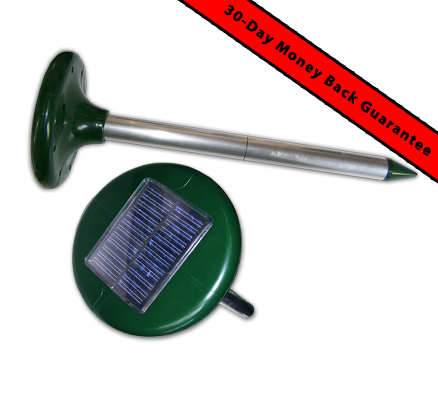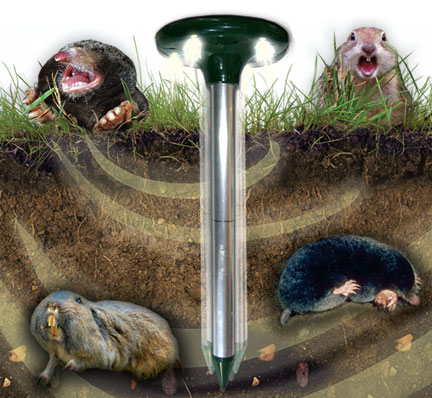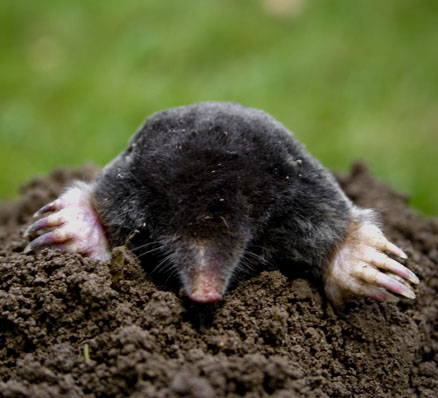 Loading...
Backed by our 30-day electronics performance satisfaction guarantee AND our 6-month manufacturer's warranty against material defects.
Transonic Mole
Keep moles, gophers and other burrowing creatures from destroying lawns with this solar-powered multi-sensory attack that combines sound, vibration and flashing light.
Details
Electronic repeller combining ultrasound, vibration and a flashing light
Solar-powered device
Emits bursts of sound and vibration every 20 seconds, to repel underground intruders
Light flashes every 5 seconds, to deter critters above ground
Weatherproof
24-hour operation
Applications
Target pests include: moles, gophers and other burrowing creatures.
Effective coverage up to 50 ft. radius (approximately 7,800 sq. ft.)
Recommended for outdoor use in any area where burrowing creatures are a problem.
Benefits
Save lawns from damage caused by burrowing creatures
Protect flowers, trees, bushes, vegetable gardens, and other rooted plants
Increase/maintain property aesthetics
Add & Combine
For maximum, sustained success in your bird control efforts, a synergistic approach is recommended. Synergy is the interaction of two or more forces producing a combined effect that is greater than the sum of their individual effects. We often recommend companion products – combining sonic repellent devices with visual scares or scent and taste aversions. This kind of multi-sensory attack is extremely effective in deterring pest birds from an area permanently.
Companion Product:

Nature's Defense:
All-Purpose Animal Repellent
Specs
Dimensions (assembled): 14.5" x 6" x 6"
Box dimensions: 8" x 8" x 5" / Shipping weight: 2 lbs
Coverage: Up to 50 ft. radius (approximately 7,800 sq. ft.)
Power Supply: Ni-MH AA 1200mA/h battery*3, 3.6v (sealed unit)
Flash: 0.1sec/5sec. 4 flash lights
Sound: 800Hz frequency lasting 1 second at 20 second intervals
Vibration: 1 second at 20 second intervals
Operation: Sounds and vibrations alternate on a 20-second cycle +/- 10%
Working current: Flash <60mA, ultrasonic<60mA, vibration<20mA, stand by <0.02mA (average approximately 5mA)
Solar power current: Daytime 20mA, noon 60mA, night 0mA