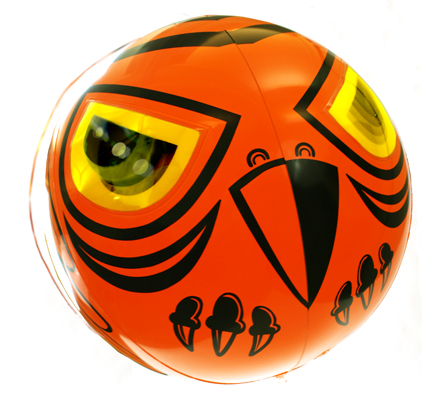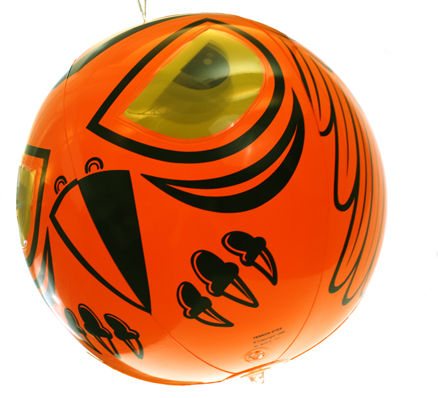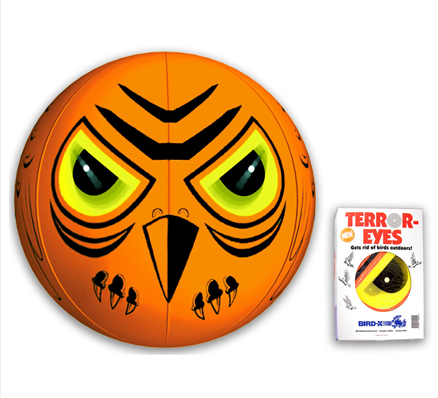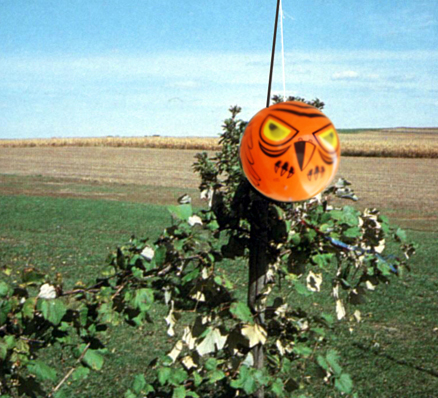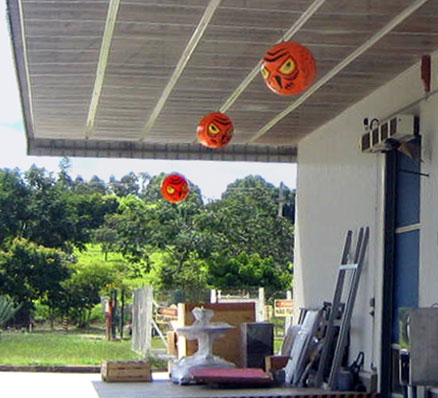 Loading...
Guaranteed to be manufactured to specifications & free from defect at the time of purchase.
Terror Eyes

Visual Scare Device



Reduces Damages



Inexpensive, Effective Solution
Large, 'moving' 3D eyes scare birds away. Terror-Eyes® is a simple, easy to use, money-saving bird deterrent.
Holographic eyes create the illusion of a predator following pest birds to attack
Bright colors & fierce features mimic natural predators
Moves in the wind, increasing the "moving" effect
Easy to install, requires little to no maintenance
Testimonials

The Birds simply disappeared. It is really unbelievable since we had virtually flocks of birds in our commodity shed where we store feed for dairy cattle. Birds had been roosting, eating and messing in our commodities. We tried unsuccessfully to scare them away with BB guns and other assorted gimmicks to no avail. We decided to give one of your Terror Eyes a try; what did we have to lose? I'm happy to report we have not had a single bird in the commodity shed since then. We've been recommending it to anyone who mentions a similar problem.
–Linda B. from Medford, WI

We just wanted to share with you how delighted we are with your product! We purchased your Terror Eyes bird repellent system for use on our sailboat. The work beautifully! We string them up the mast with one at the top, one at the spreaders, one near the bimini and an additional one over the boom. Since they have been installed, t is a pleasure to find our boat clean. We have observed that when birds approach, the detour our boat. It is amazing. Thank you for your ingenious solution to a very annoying problem.
–Elaine and Jim M.

"Fred the Terror Eye Owl" has been put on duty for three weeks now. I can't believe how clean my boat is! My slip neighbors laughed when I first installed the Terror Eyes balloon, but I bet I will soon see more of them showing up in the harbor. I purchased Terror Eyes to ward off pigeons and seagulls which were creating a large mess. It consumed four hours a week of my time just to clean the exterior of my boat. Thanks for a great product!
–Gary M. from Santa Cruz, CA
Reviews
Details
Predator decoy; 3D balloon
Weatherproof, vinyl, inflatable balloon
Markings exaggerate the glaring stare & gaping mouth of natural predators
Holographic material creates the illusion that the eyes are following pest birds
Wind causes the inflatable Terror Eyes to move in the wind, increasing efficacy
Easy installation
Applications
Effective wherever visible, up to once acre of open space.
Effectively Repels:

Ideal For Use At:


Indoors & Outdoors

Farms & Barns

Golf Courses, Parks, & Public Spaces

Car & Parking Lots

Yards, Gardens, Porches, & Patios

Fields, Barns, Stables, Orchards, Vineyards

Infrastructure & Transportation

Boats, Harbors, Docks, Marinas, & Locations with Water

Homes, Garages, & Rooftops

Warehouses, Loading Docks & Hangers

Any large open or semi-enclosed space



Tie to poles, hang from rafters - wherever nuissance birds perch, roost, or nest.
Benefits
Cut down on cleanup & repair costs
Protect buildings, equipment, & vehicles from corrosive bird droppings
Reduce health & liability risks associated with pest bird infestation
Prevent the spread of diseases, such as West Nile, Salmonella & E. Coli
Eliminate fire hazards caused by birds building nests in vents & chimneys
Avoid government & safety inspection failures
Save outdoor grounds from bird damage
Increase property aesthetics
Decrease nuisance for residents, workers, customers, etc.


Add & Combine
For maximum, sustained success in your bird control efforts, a synergistic approach is recommended. Synergy is the interaction of two or more forces producing a combined effect that is greater than the sum of their individual effects. We often recommend companion products – combining sonic repellent devices with visual scares or scent and taste aversions. This kind of multi-sensory attack is extremely effective in deterring pest birds from an area permanently.
Companion Products:
Specs
Balloon diameter: 19" (inflated) / about 27" (deflated)
Box dimensions: 12" x 9" x 2"
2 lbs
Available Accessories: