Stainless Steel Spikes

BEST-SELLING Stainless Steel Bird Control Spikes

100% Effective, Safe, Permanent Physical Barrier

Completely Blocks Birds from Landing on Surfaces

Installs Easily with Spikes Adhesive (Sold Separately)
IN STOCK - AVAILABLE IMMEDIATELY!
Provides 100% Protection on Rooftops, Ledges, Fences, & More! Bird-X's Stainless Steel Bird Spikes are made of durable stainless steel, and require zero maintenance. Stainless Steel Bird Spikes provide total pest bird protection, and can last a lifetime.
Starting at $44.35 NOW Starting at $34.20 (23% SAVINGS!)
Reviews
Details
Backed by our manufacturer's warranty against material defects and workmanship.
Easy to install – use Spikes Adhesive or nails, screws, or ties
One-time solution – no maintenance required!
100% effective everywhere they are installed – repel birds 24/7
Industry standard on public & private properties
Flexible base – allows for installation on curved surfaces
Less expensive than 100% metal alternatives
Stainless steel won't corrode or decay
If installed properly, spikes can last a lifetime!
Applications
Effective wherever applied; physical barrier eliminates the ability to perch, roost, or nest.
What will it repel? Where can it be used?
*Pigeons *Homes, Garages, Rooftops, Windowsills
*Sparrows & Starlings *Signs, Billboards, Chimneys, Ledges
*Crows & Blackbirds *Areas above cars, Playgrounds, Beams, Rafters
*Grackles, Swallows *Yards, Gardens, Porches, Patios, Windowsills
*Other Birds *Gates, Fences, Building Ledges, Barns, Stables
*Large Birds (Seagulls, Geese, &
Turkey Vultures) use Extra Tall Spikes.
For best results, check periodically to ensure no leaves, trash, or other mess clogs the spikes.
Benefits
Cut down on cleanup & repair costs

Protect buildings, equipment, & vehicles from corrosive bird droppings

Reduce health & liability risks associated with pest bird infestation

Prevent the spread of diseases, such as West Nile, Salmonella & E. Coli

Eliminate fire hazards caused by birds building nests in vents & chimneys

Avoid government & safety inspection failures

Save outdoor grounds from bird damage

Increase property aesthetics

Decrease nuisance for residents, workers, customers


Add & Combine
For maximum, sustained success in your bird control efforts, a synergistic approach is recommended. Synergy is the interaction of two or more forces producing a combined effect that is greater than the sum of their individual effects. We often recommend companion products – combining sonic repellent devices with visual scares or scent and taste aversions. This kind of multi-sensory attack is extremely effective in deterring pest birds from an area permanently.
Companion Products:
Specs
Narrow Spikes:

Width: 2.5" (3" coverage)

Height: 4.3"

Base width: 1.69"

Regular Spikes:

Width: 4.5" (5" coverage)

Height: 4.3"

Base width: 1.69"

Extra Wide Spikes:

Width: 7.5" (8" coverage)

Height: 4.3"

Base width: 1.69"

Extra Tall Spikes:

Width: 8.5" (9" coverage)

Height: 5.75"

Base width: 1.69"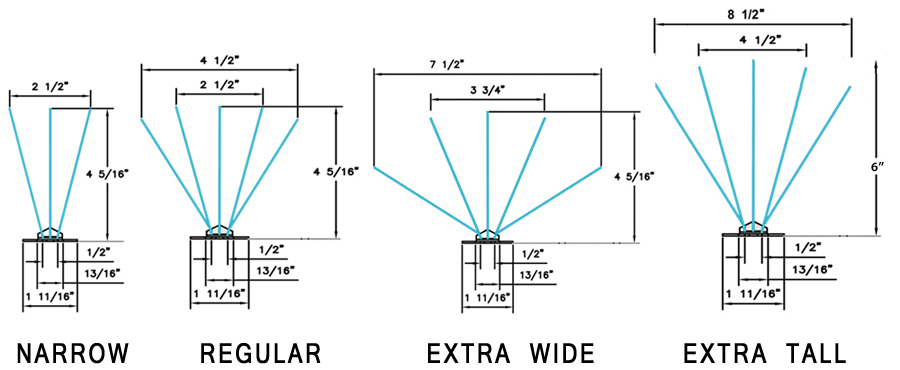 Spikes come in 2 ft. sections. All spikes listed are Stainless Steel securely enclosed in a flexible polycarbonate base.
Stainless Steel Bird Spikes Instructions (PDF)
Box Dimensions / Shipping Weight Information:
Narrow Spikes:

10 ft.: 25" x 6" x 6" - 2 lbs

24 ft.: 25" x 6" x 7" - 3 lbs

50 ft.: 25" x 8" x 8" - 5 lbs

100ft.: 25" x 12" x 9" - 10 lbs

Regular Spikes:

10 ft.: 25" x 6" x 6" - 2 lbs

24 ft.: 25" x 5" x 9" - 3 lbs

50 ft.: 25" x 16" x 5" - 7 lbs

100ft.: 26" x 21" x 16" - 13 lbs

Extra Wide Spikes:

10 ft.: 25" x 11" x 5" - 2 lbs

24 ft.: 26" x 19" x 17" - 4 lbs

50 ft.: 25" x 11" x 6" - 8 lbs

100ft.: 25" x 20" x 11" - 15 lbs

Extra Tall Spikes:

10 ft.: 25" x 6" x 6" - 4 lbs

24 ft.: 25" x 10" x 6" - 5 lbs

50 ft.: 25" x 20" x 6" - 10 lbs

100ft.: 25" x 20" x 11" - 18 lbs
Case Studies