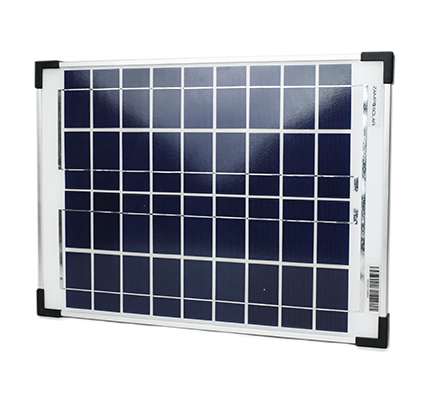 Loading...
Backed by our manufacturer's warranty against material defects.
Solar Panel: Large
Solar panel converts sunlight into electricity and charges 12v batteries for DC (direct current) appliances. Power: 20 Watts
Works with Bird-X electronic/sonic devices:
Super BirdXPeller PRO
GooseBuster
Critter Blaster PRO
Other multi-speaker devices
*Requires alligator clips (not included in purchase)
*Purchase seperately here
Reviews
Details
Solar power panels convert sunlight into electricity
Power: 20 watts
Wire sequentially conducts the electricity to batteries
Electricity is then used directly from batteries, to power DC (direct current) appliances like your repeller from Bird-X
Charges 12v DC batteries
*You must purchase a 12v battery in order to utilize the solar panel. The panel can only charge the battery – it cannot power the electronic device directly. A deep cycle, marine type battery is recommended. Purchase batteries locally.

Applications
Recommended for use in situations where electricity is not available.
Add & Combine
Specs
Dimensions: 18.5" x 13.5" x 1" / Weight: 4.85 lbs
Box Dimensions: 23.25" x 18" x 3.25" / Shipping Weight: 9 lbs

Rated Power: 20 watts

Current: 1.14 amps
Charges 12v DC batteries