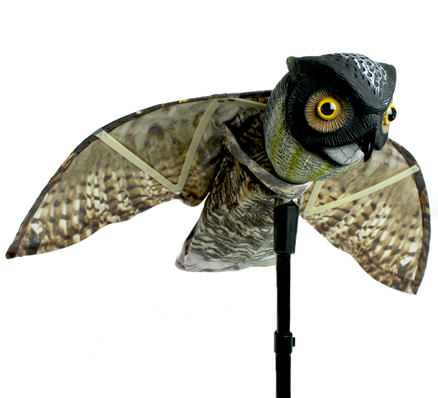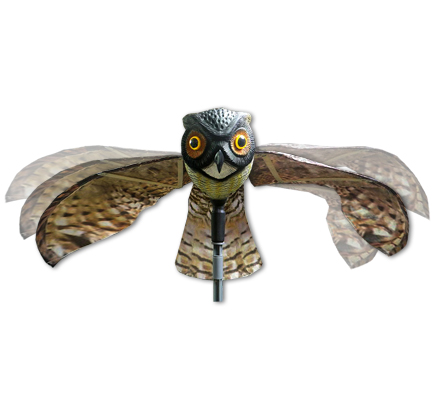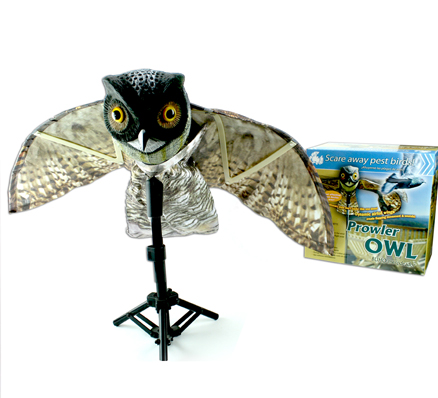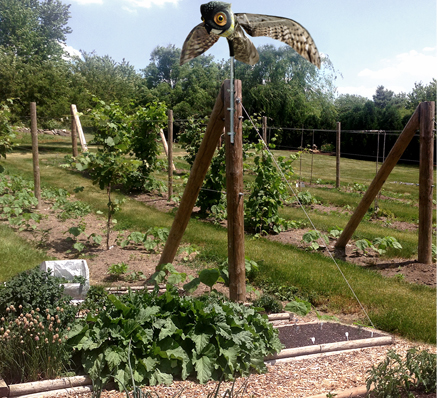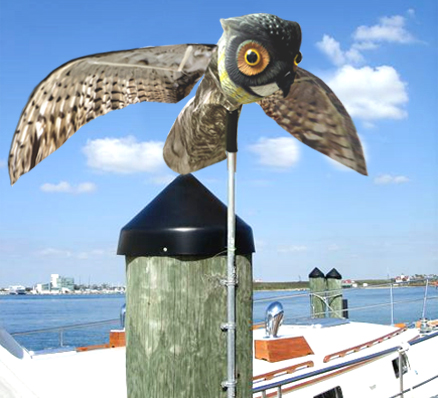 Loading...
Guaranteed to be manufactured to specifications & free from defect at the time of purchase.
Prowler Owl

Proven Visual Scare

Saves Money on Cleanup & Repair

Eliminates Bird & Small Pest Problems

Money-Back Guarantee
Decades-proven visual deterrent, improved with dynamic realism & movement! Scare away birds & small pests with this predator replica of the most-feared aerial predator, the Great Horned Owl, which catches & eats nearly everything it can catch.
Lifelike, wind-catching design increases effectiveness
Accurate plumage & hunting flight pose
Intimidating, glassy eyes "follow" pests
Flexible wings move & flap in the wind realistically
Without movement, an owl scare is useless – don't be fooled by imitations that are immobile! Install Prowler Owl decoy in any open outdoor area where pest birds or small critters are a problem.
Reviews
Details
Predator owl replica; life-size owl
Owl scare repels pest birds & other small animals
Always-moving "hunting" posture keeps birds away
4-foot wingspan & accurate markings
Safe, humane, non-toxic, silent
Covers up to 6,000 sq. ft.
Applications
Recommended for use wherever birds & small critters are a problem. Effective where visible for up to 6,000 sq. ft.
Effectively Repels:

Ideal For Use At:

Parks, Fields, Bushes, & Trees

Yards & Gardens

Rooftops & Patios

Near Light Poles & Telephone Poles

Waterfront Property & Businesses

Airports & Transportation Platforms

Marinas & Boat Docks

Farm Fields, Orchards, & Vineyards

Warehouses & Manufacturing Facilities
Benefits
Cut recurring cleanup & repair costs
Protect buildings & equipment from corrosive bird droppings
Reduce health & liability risks associated with pest bird infestation
Prevent the spread of diseases, such as West Nile, Salmonella & E. Coli
Eliminate fire hazards caused by birds building nests in vents & chimneys
Avoid government & safety inspection failures
Save outdoor grounds from bird damage
Increase property aesthetics
Decrease bird nuisance


Add & Combine
For maximum, sustained success in your bird control efforts, a synergistic approach is recommended. Synergy is the interaction of two or more forces producing a combined effect that is greater than the sum of their individual effects. We often recommend companion products – combining sonic repellent devices with visual scares or scent & taste aversions. This kind of multi-sensory attack is extremely effective in deterring pest birds from an area permanently.
Companion Products:
Bird Spikes BroadBand PRO Bird Stop BirdXPeller PRO Bird Proof Gel
Specs
Dimensions: 44" wingspan, 23" total head-to-tail, 6" head diameter
Box dimensions: 12" x 8" x 13" / 2 lbs
Materials: Head is hard plastic resin, body/wing is extra-durable, waterproof non-woven fabric supported by flexible cables & riveted plastic struts
Mounting: Place neck opening on a ½" diameter pole
Download Prowler Owl Instructions