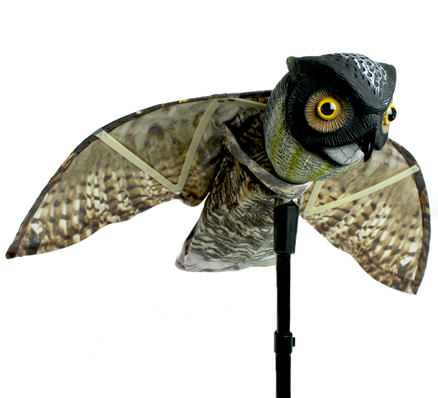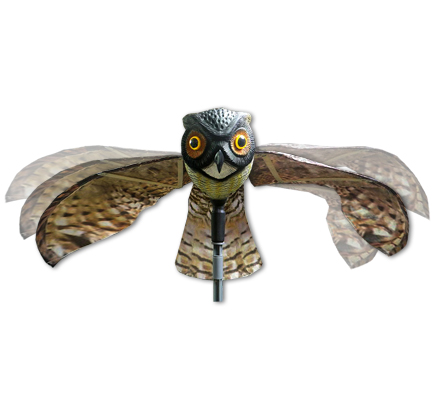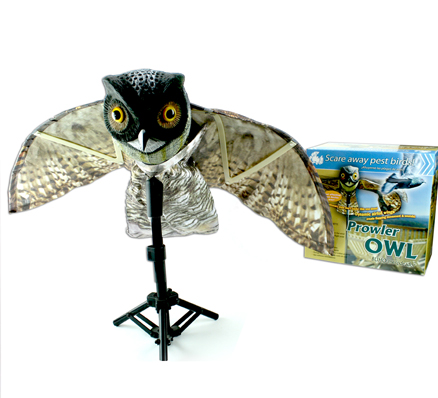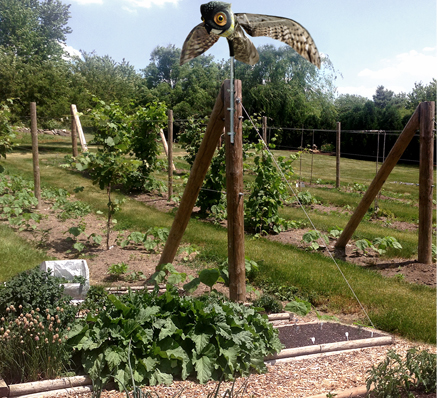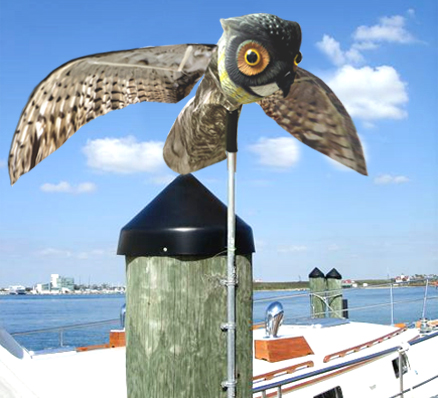 Loading...
Guaranteed to be manufactured to specifications & free from defect at the time of purchase.
Prowler Owl

Proven Visual Scare



Saves Money on Cleanup & Repair



Eliminates Bird & Small Pest Problems



Money-Back Guarantee
Decades-proven visual deterrent, improved with dynamic realism & movement! Scare away birds & small pests with this predator replica of the most-feared aerial predator, the Great Horned Owl, which catches & eats nearly everything it can catch.
Lifelike, wind-catching design increases effectiveness
Accurate plumage & hunting flight pose
Intimidating, glassy eyes "follow" pests
Flexible wings move & flap in the wind realistically
Without movement, an owl scare is useless – don't be fooled by imitations that are immobile! Install Prowler Owl decoy in any open outdoor area where pest birds or small critters are a problem.
Testimonials

Good News! Two days and nights have passed since we put "Larry" the Lang Dental mascot Prowler Owl out at our front door. Apparently the geese have been scared...Let's just say we no longer have issues with their droppings. Thanks for solving our problem!
–David from Wheeling, IL

I purchased the Prowler Owl to get rid of Pigeons. They were nesting on the front of our office building, tarp and roof edges. At first, my co-workers joked saying the pigeons would just stand on the owl's head and leave droppings. Since then, the pigeon activity on our roof and especially our tarps has minimized to where there are no droppings at all. The South Florida rainy season has finished cleaning the tarp and it remains clean thanks to your Prowler Owl.
–G Torres from Fort Lauderdale, FL

I've tried numerous things to get rid of pigeons in the past. I bought the Prowler Owl to control stubborn pigeons in and around a canopy. At first, I felt silly carrying the owl around and hid it behind my back until I got close enough to the birds. At that point, I pulled it from behind my back and the birds panicked! They flew away from under the canopy immediately as the owl moved in the wind. Ever since we posted the owl in our facility we haven't had birds near it for several days.
–M. Tucker, a Property Manager of West Mall

Pest Control is an ongoing problem inside and out. Our pigeon problem was a constant headache. Trapping was long, tedious and expensive. Shooting or poisoning was prohibited. Results with the Prowler Owl were immediate and we no longer have a serious problem with birds. We have purchased two more and they will protect our other buildings. I would like to thank you for a very economical solution for an expensive problem.
–Robert from Beaver Falls, PA
Reviews
Details
Predator owl replica; life-size owl
Owl scare repels pest birds & other small animals
Always-moving "hunting" posture keeps birds away
4-foot wingspan & accurate markings
Safe, humane, non-toxic, silent
Covers up to 6,000 sq. ft.
Applications
Recommended for use wherever birds & small critters are a problem. Effective where visible for up to 6,000 sq. ft.
Effectively Repels:

Ideal For Use At:

Parks, Fields, Bushes, & Trees

Yards & Gardens

Rooftops & Patios

Near Light Poles & Telephone Poles

Waterfront Property & Businesses

Airports & Transportation Platforms

Marinas & Boat Docks

Farm Fields, Orchards, & Vineyards

Warehouses & Manufacturing Facilities
Benefits
Cut recurring cleanup & repair costs
Protect buildings & equipment from corrosive bird droppings
Reduce health & liability risks associated with pest bird infestation
Prevent the spread of diseases, such as West Nile, Salmonella & E. Coli
Eliminate fire hazards caused by birds building nests in vents & chimneys
Avoid government & safety inspection failures
Save outdoor grounds from bird damage
Increase property aesthetics
Decrease bird nuisance


Add & Combine
For maximum, sustained success in your bird control efforts, a synergistic approach is recommended. Synergy is the interaction of two or more forces producing a combined effect that is greater than the sum of their individual effects. We often recommend companion products – combining sonic repellent devices with visual scares or scent & taste aversions. This kind of multi-sensory attack is extremely effective in deterring pest birds from an area permanently.
Companion Products:
Bird Spikes BroadBand PRO Bird Stop BirdXPeller PRO Bird Proof Gel
Specs
Dimensions: 44" wingspan, 23" total head-to-tail, 6" head diameter
Box dimensions: 12" x 8" x 13" / 2 lbs
Materials: Head is hard plastic resin, body/wing is extra-durable, waterproof non-woven fabric supported by flexible cables & riveted plastic struts
Mounting: Place neck opening on a ½" diameter pole
Download Prowler Owl Instructions