Plastic Spikes

BEST-SELLING Plastic Bird Control Spikes



100% Effective, Safe, Permanent Physical Barrier



Completely Blocks Bird from Landing on Surfaces



Installs Easily with Spikes Adhesive (Sold Separately)



Backed by our 5-Year Warranty

Please accept my gratitude for solving our bird problem! The plastic spikes do not subtract from the beauty of our home. –C. Green

For something so simple, they are definitely effective. Was able to cut the spikes to fit. –L.L. McKenna
IN STOCK - AVAILABLE IMMEDIATELY!
Starting at $27.58 NOW $20.68 (25% SAVINGS!)
Provide 100% Protection on Rooftops, Ledges, Fences, & More! Bird-X's Plastic Bird Spikes are made of a durable Polycarbonate material that won't corrode or decay. Plastic Bird Spikes require zero maintenance, and provide total pest bird protection while maintaining facility aesthetics.
Testimonials

For something so simple, they are definitely effective. I used Bird Spikes on a metal arbor. I hung two upside-down tomato planters from the arbor and had a bench underneath, but found the birds using the arbor as a toilet - not real healthy for the tomato plants and not a pleasant place to sit and enjoy the garden! I attached the plastic "spikes" to the arbor and no more birds. The glue has held up well - somewhat messy in applying, but not a huge problem. Was able to cut the spikes to fit. Great product.
–L.L. McKenna from Aurora, IL

Works. I was actually very suspicious of the performance of this product, but after months of dealing with territorial Cardinals here in south Ohio I was willing to try anything. The male cardinal will land on a bush or tree in front of one of my windows and insistently dive bomb it's reflection thinking it's another male trying to invade on his territory. Since they have no memory to speak of he would end up hitting the window every few seconds. I installed the spikes on the window sills and to my absolute astonishment and joy this product works like a charm. I no longer have to hide behind the corner of the house with my BB gun trying to kill the dang thing, good thing because it may be illegal to kill our state bird.......in any case he still lives and no longer bothers me and my family.
–Nathan, OH

Please accept my gratitude for solving our bird problem! For the past five years, we have had nothing but noise and diseased filled droppings from pigeons. I contacted your company where a courteous and informative employee greeted me. He recommended the products necessary, which were plastic spikes, spikes adhesive and repellent. Upon arrival of the materials we had them installed and like magic the problem disappeared. Now my husband can finally get a full night's sleep because he is not disturbed at the crack of dawn by the cooing of pigeons. Also, I must mention the plastic spikes do not subtract from the beauty of our home. Again, thank you for the safe and effective products.
–C. Green
Reviews
Details
Backed by our manufacturer's warranty against material defects & workmanship.
Spikes made easy. Get professional results anywhere birds aren't welcome.
100% effective everywhere they are installed – repel birds 24/7
Physical barrier does not harm birds; cruelty-free solution
Easy to install

– no maintenance required!

Eliminates landing surfaces, increases property aesthetics & value
Clear, lightweight, low-profile bird control method
Material won't corrode or decay

Used worldwide, one of the oldest & most reliable bird repellants

Industry standard on public & private properties

When installed properly, spikes can last a lifetime!
Physical barriers are the most effective way to keep birds off.

Spikes install easily with
Spikes Adhesive
, nails, screws, or ties.
Applications
Effective wherever applied; physical barrier eliminates the ability to perch, roost, or nest.
What will it repel? Where can it be used?
*Pigeons *Outdoors/Indoors
*Sparrows & Starlings *Homes, Garages, Rooftops
*Crows & Blackbirds *Areas above cars, playgrounds
*Grackles, Swallows *Yards, Gardens, Porches, Patios
*Other Birds *Gates, Fences, Building Ledges, Barns, Stables
For best results, check periodically to ensure no leaves, trash, or other mess clogs the spikes.
Benefits
Cut down on cleanup & repair costs
Protect buildings, equipment, & vehicles from corrosive bird droppings
Reduce health & liability risks associated with pest bird infestation
Prevent the spread of diseases, such as West Nile, Salmonella & E. Coli
Eliminate fire hazards caused by birds building nests in vents & chimneys
Avoid government & safety inspection failures
Save outdoor grounds from bird damage
Increase property aesthetics
Decrease nuisance for residents, workers, customers, etc.


Add & Combine
Bird control products that exclude birds by creating a physical barrier – such as bird spikes and netting – are 100% effective everywhere they are installed. However, it is not always possible to protect entire areas with spikes & netting. In these cases, we recommend using companion products to make areas as unwelcoming as possible to encourage pest birds to go elsewhere. Combining exclusionary methods with scare tactics makes the entire area inhospitable to birds - try visual scares, scent & taste aversions, and sonic/ultrasonic devices in such situations. This kind of multi-sensory attack is extremely effective in deterring pest birds from an area permanently.
Popular Companion Products:
Bird Proof Gel Bird Net: PE-Plus Terror Eyes BirdXPeller PRO
Specs
Narrow Spikes

Width: 2.5" (3.5" coverage)

Height: 4.75"

Base width: 0.75"

Regular Spikes


Width: 6.5" (7"-8" coverage)

Height: 4.75"

Base width: 1.75"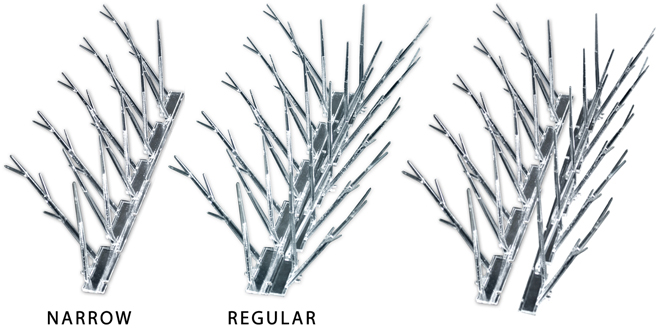 Made in the USA
Download Polycarbonate Bird Spikes Instructions
Narrow Spikes

10 ft.: 13" x 5" x 5" / 2 lbs
25 ft.: 13" x 7" x 12" / 3 lbs
50 ft.: 17" x 13" x 7" / 6 lbs
100 ft.: 23" x 14" x 6" / 9 lbs

Regular Spikes

10 ft.: 17" x 6" x 13" / 3 lbs
25 ft.: 23" x 14" x 6" / 6 lbs
50 ft.: 26" x 20" x 14" / 12 lbs
100ft.: 26" x 23" x 20" / 24 lbs
Case Studies