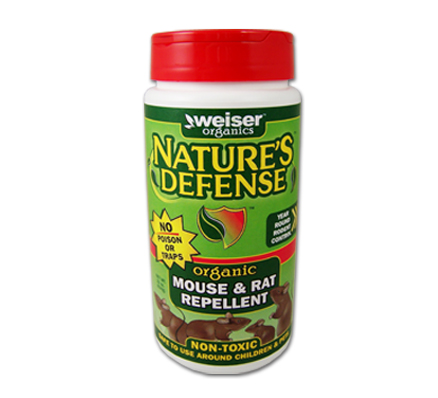 Loading...
Guaranteed to be manufactured to specifications and free from defect at the time of purchase.
Nature's Defense: Mouse and Rat Repellent

100% Certified-Organic Rodent Repellent

Safe For Use With Children & Pets

Long-Lasting & Weather-Resistant


Quality Guaranteed
Effectively deters mice & rats without chemicals or traps. Made with all-natural ingredients that create an irritating scent barrier to keep rodents away, Nature's Defense is harmless to children, pets, & plants.
Sprinkle outdoors to create a protective barrier
Contains ingredients rodents can't stand
22 oz covers up to 3,500 sq. ft.
Reviews

I had a number of my listeners with rodent problems test your product and the results were well above the standards I've set for products. You probably wonder what that means, let me explain. When I test any product it must work better than 80% of the time. In other words, if 10 people test the product, 8 or more must say it worked before I will recommend it to my listeners…I must say I'm happy to recommend Weiser's Nature's Defense to anybody with a rodent problem.
–Trapper John Colombo
Click here to read more about Trapper John Colombo's testing of Nature's Defense on our blog.
Details
100% ORGANIC – made with certified organic ingredients; no harmful chemicals
Environmentally safe product; exempt from EPA registration
Sprinkle once a week in and around areas where rodents are a problem, and or in areas you want to protect.
No mess – unlike liquid or spray products
Safe to use around children, pets, plants, and food crops
Patent-pending granular formula will not burn plants
Extremely resistant to rain and snow
*Contains no blood or rotten egg (which may attract unwanted carnivores & omnivores such as skunks, coyotes, raccoons, etc.)
Applications
Repels rodents including mice & rats.
Apply as needed: 22 oz covers up to 3,500 sq. ft.
Recommended for use outdoors, to protect specific areas or foundations:
Homes & garages
Sheds & storage units
Basements, cellars & window wells
Gardens & plantings
Commercial buildings
Benefits
Keep rodents away from your property, foundation, garden, etc.
Protect property and belongings from rodents and their droppings
Reduce health risks and prevent the spread of disease
Save plants, flowers, vegetable gardens, etc. from pest damage
Increase property aesthetics
Add & Combine
For maximum, sustained success in your bird control efforts, a synergistic approach is recommended. Synergy is the interaction of two or more forces producing a combined effect that is greater than the sum of their individual effects. We often recommend companion products – combining sonic repellent devices with visual scares or scent and taste aversions. This kind of multi-sensory attack is extremely effective in deterring pest birds from an area permanently.
Companion Products:
Specs
Case Studies