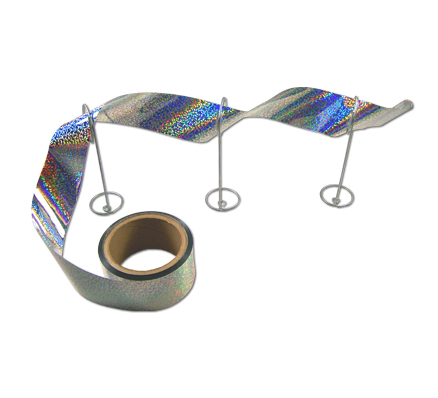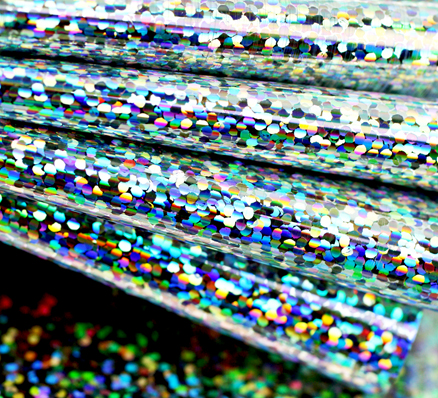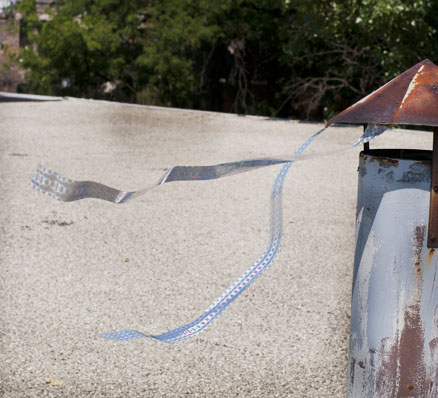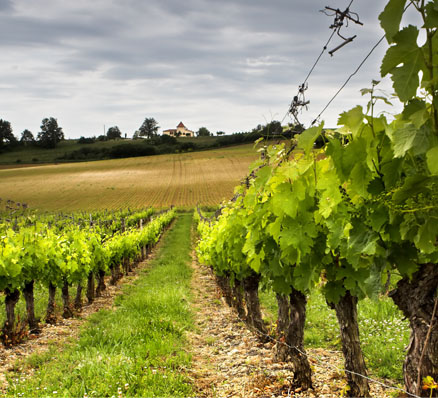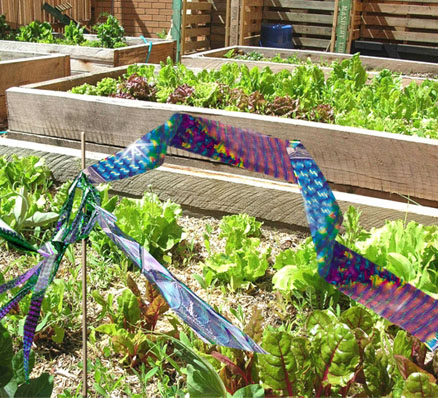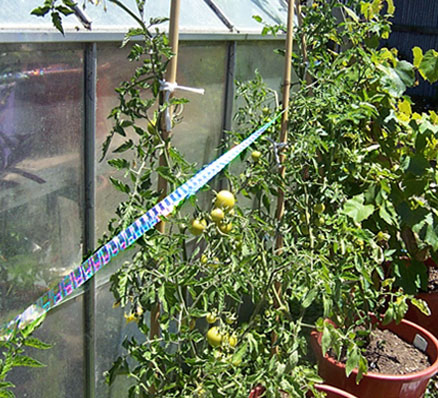 Loading...
Guaranteed to be manufactured to specifications & free from defect at the time of purchase.
Irri-Tape®

Simple Visual & Sound Tape



Scares & Irritates Pest Birds



Extremely Effective Bird Repellent



Inexpensive, Lasting Solution
Holographic bird tape flashes blinding light & makes noise when it flaps in the wind. Irri-Tape® is a multi-sensory attack scares birds away from the treated area. Also known as Flash Tape, Foil Tape, Bird Tape, Repeller Ribbon, Mirror Tape, Reflective Tape, Mylar Tape, Holographic Tape, & many others, this product has been used for years.
Sunlight reflects off the material, disorienting & irritating pest birds
Sharp, metallic clacking sounds are made when tape flaps in the wind
Easy to install, very simple & effective solution
Bird tape is often used in farms, vineyards & other agricultural applications.
Drive through Napa Valley during harvest season and you will see Irri-Tape holographic tape flapping in the wind, protecting rows of grapes at almost every vineyard.
Testimonials

Woodpeckers no longer a problem. About four years ago, woodpeckers were drilling holes in our vacation house. We bought some Irri-Tape and have installed it every year since and haven't had issues with woodpeckers since. No more holes in our house!
–Jennifer from Truckee, CA

A no-brainer purchase! We had a SERIOUS bird problem... the poop was EVERYWHERE: patio, pool, outdoor furniture, etc... I ran several cris-crossing fishing lines from trees in our back yard to the house eves and then ties 3 foot streamers every 10-12 feet along those fishing lines... This created a canopy of about 30 or so streamers 15 to 20 feet above the ground covering our entire patio and pool area. The before was daily cleaning with many many droppings.... and now NOT ONE BIRD dropping in over a year! OUTSTANDING product. You will have to replace seasonally because the holographic pattern fades and the mylar tape does break (from whipping in the wind), but that is a VERY small price to pay for the end result!
–Timothy S. from Texas

We have swallows that were trying to nest in an alcove above our front door. As a result, they would try to build nests and be protective over "their" turf. This was not okay since we have a young child and infants, I was not happy about being swooped on by the birds. We thought of pigeon spikes or a yard owl, but I see this shiny tape at vineyards nearby and thought I'd give it a try. Since I put up 8" strips near my front door, a tree in the front yard, and strategic areas in the backyard, the birds have gone away! I am so happy this inexpensive tool worked!
–Anonymous

There is a flock of lake gulls that nest on the roof of the big warehouse across the street from our facility. The flock has been swarming around the area and dive-bombing people in our parking lot as well as the neighboring facilities. Not to mention they are crapping all over our cars. It's a little like the movie "The Birds"! So yesterday afternoon, I strung Irri-Tape around our front entrance as well as along the main parking area, and those gulls have completely stayed away from our building! This morning as I pulled in, they were wreaking havoc across the street, but were not coming anywhere near our side of the street. That's some powerful stuff! Thanks again!
–Jordan from Cleveland, OH

It Works! Tried numerous ideas to get a robin to stop flying into our glass window 5 - 10 times an hour over a two week period. I hung these ribbons and they worked immediately. We have not seen the robin for almost a week since putting the ribbons up!
–Paul C. from Chicago, IL
Reviews
Details
Holographic, iridescent foil
Visual scare – birds are scared of the material's sheen, as the light causes constantly changing reflections
Sound scare – birds are rattled by the fierce metallic noise as it blows in the breeze
Physical deterrent – birds are blocked by the tape and its brackets on any surface
Can be used alone or in combination with a sound device or a taste aversion
Includes metal mounting brackets
Irri-Tape uses metallic diffraction foil – while ideal for all freshwater applications, avoid use on or near saltwater.
CAUTION: Prolonged exposure to saltwater spray may shorten product life. This product is not recommended for use on or near salt water.
Applications
Effective wherever applied - tie to poles, hang from rafters, wrap around plants - wherever unwanted birds land.
Recommended for any area with access to light &/or wind
Effectively Repels:

Ideal For Use At:


Vineyards & Orchards

Home Gardens & Yards

Porches, Balconies, & Patios

Car & Parking Lots

Fields, Barns, Stables, Orchards, Vineyards

Public Parks & Ponds

Boats, Harbors, Docks, & Marinas

Private Beaches & Locations with Water*

Rooftops, home siding, & trees
*This product is not suitable for saltwater applications, as salt will corrode the foil material – please select a different visual scare.
Benefits
Protect crops including orchards, fruit & vegetable gardens from bird damage
Cut recurring cleanup & repair costs
Protect buildings & equipment from corrosive bird droppings
Reduce health & liability risks associated with pest bird infestation
Prevent the spread of diseases, such as West Nile, Salmonella & E. Coli
Avoid government & safety inspection failures
Increase/maintain property aesthetics
Decrease nuisance for residents, workers, & customers


Add & Combine
For maximum, sustained success in your bird control efforts, a synergistic approach is recommended. Synergy is the interaction of two or more forces producing a combined effect that is greater than the sum of their individual effects. We often recommend companion products – combining sonic repellent devices with visual scares or scent and taste aversions. This kind of multi-sensory attack is extremely effective in deterring pest birds from an area permanently.
Companion Products:
Specs
Dimensions: width 2", thickness 2mm
100-ft box dimensions: 7" x 5" x 3'' / 1 lb
500-ft box dimensions: 8" x 8" x 4" / 4 lbs
Material: polyester
Includes metal mounting brackets (4 brackets for 100 ft., 16 brackets for 500 ft.)
100 ft.: Box dimensions: 6" x 4" x 3" / Shipping weight: 2 lbs
500 ft.: Box dimensions: 8" x 8" x 4" / Shipping weight: 5 lbs
Proudly Made in the USA
Download Irri-Tape Instructions