How Ultrasonic Animal Repellents Work
One commonly asked question Bird-X receives is "How do Ultrasonic Animal Repellents Work?"
To answer this question, we've created the following informative diagram: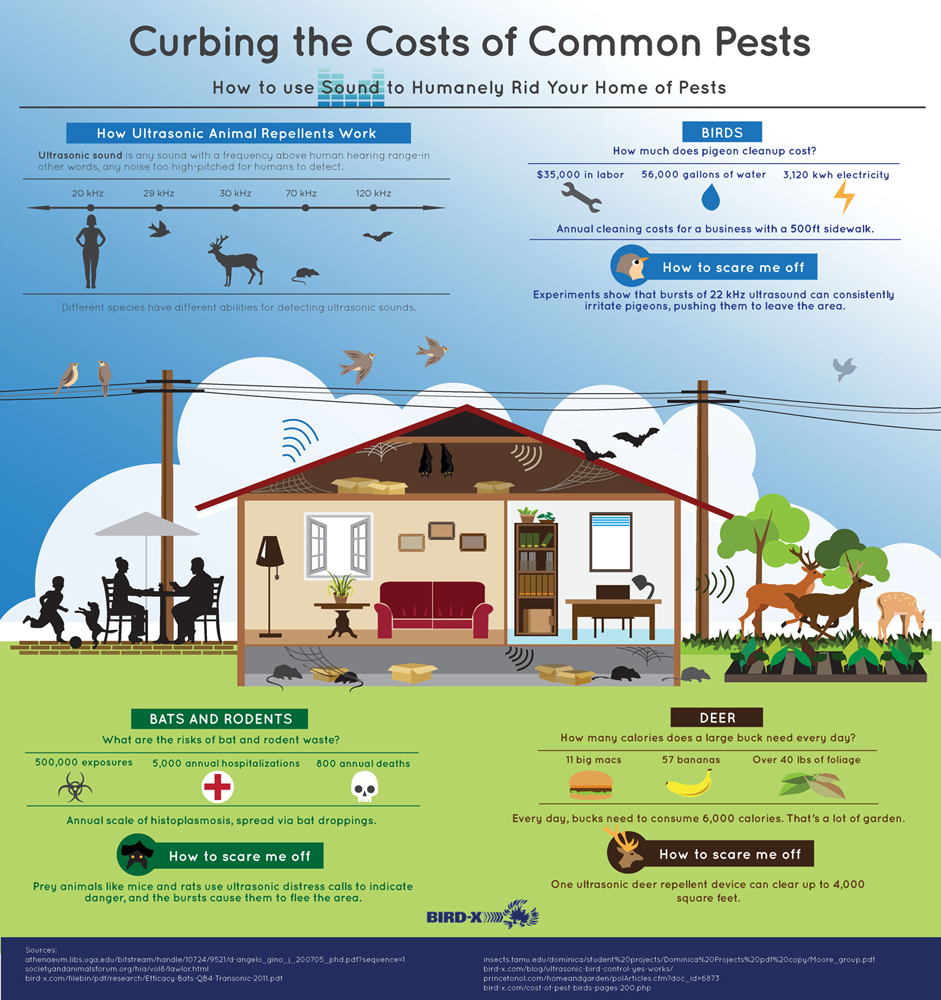 Please feel free to share this infographic on your own blog or website. When you do, please give credit and link to Bird-X.
Points covered:
Ultrasonic Animal Repellents: How do they Work?
Any sound with a frequency that is above human's range of hearing is considered ultrasonic sound. In other words, any noise that's too high-pitched for people to detect.
Bird Control: how much does is cost to cleanup after pigeons, and how do you scare birds off?
Annual cleaning costs for a business with a 500 ft sidewalk is $35,000 in labor, takes 56,000 gallons of water, and uses 3,120 kWh of electricity.
Bursts of 22 kHz ultrasound irritates pigeons consistently - experiments show this pushes them to leave treated areas!
Bats & Rodents (Mice and Rats) - What are the risks of bat and rodent waste, and how do you scare bats/rodents off?
Scale showing the spread of Histoplasmosis from bat droppings - 500,000 exposures, 5,000 annual hospitalizations, and 800 annual deaths.
By using bursts of ultrasonic distress calls to indicate danger, animals like mice, rats & bats flee the area.
Deer - How much does a large buck consume every day, and how do I scare deer off?
Deer Bucks need to eat 6,000 calories every day - that can mean a lot of your lawn, trees, and other garden plants.
One ultrasonic deer repellent device can clear up to 4,000 square feet.