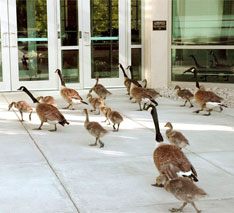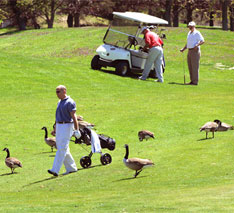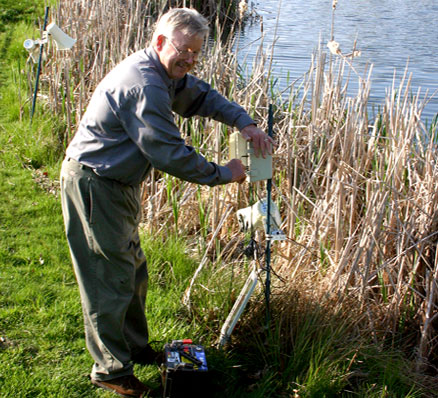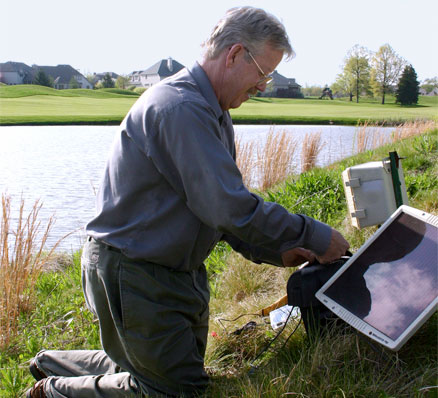 Loading...
Backed by our 30-day electronics performance satisfaction guarantee AND our 6-month manufacturer's warrantee against material defects.
GooseBuster
The GooseBuster is a one-of-a-kind sonic repellent device designed specifically to get rid of geese. Based on extensive scientific research into the behavior and vocal communications of Canada geese, the GooseBuster is the most effective goose control solution available anywhere – using recordings of Canada geese to eliminate and prevent stubborn goose infestation.
Authentic goose alert and alarm calls recorded in the wild (only such recordings in existence)
Audio makes the area uninhabitable for geese
Behavior modification – geese learn not to return
Customizable settings
Covers up to 7 acres (four speaker system)
GooseBuster has been proven effective in numerous university-conducted field studies. View the Bird-X Research page for details.


Reviews

A big "Thank you" to Bird-X! We have had a problem for years with Geese in our picnic area. We ordered the Goose Buster just as a goose had made a nest and laid eggs. Each time the device went off the goose looked up nervously. Once the goslings were hatched they moved out completely! Thanks again!
–Bill from Southfield, MI

Geese are gone from our putting greens. We installed the Goose Buster on an island green where we had most of our problems with geese. An operator manned the unit and the results seem to be fantastic. I feel confident that we have finally won the battle against geese!
– Du P from South Africa

Effective and easy to assemble. It is early days but the Goose Buster seems to be very effective so far in discouraging the infestation of resident geese on my small island in a lake in Ontario. It is very easy to set up and the variety of the random distress calls should keep the geese guessing for quite a while. It might be good if it were possible to buy a recording of additional distress calls to add to the variety, since is suspect that after a while the geese will cotton on to the fact that the pre-programmed distress calls are repeating.
– L. McCaw from Canada
Details
Goose Buster is based on decades of research into the behavior and communication of Canada geese by noted biologist Philip Whitford, Capital University Professor. Since 1979, Dr. Whitford has been studying Canada goose behavior and vocal communications, then presenting and publishing his findings. He holds a PhD in biological sciences in the field of animal behavior, and BS and MS degrees in wildlife management.
Dr. Whitford has obtained the only documented recording, anywhere, of the alarm call of Canada geese. This, along with the alert call, makes the GooseBuster the foremost goose repelling mechanism in the world.
'Alert' calls indicate uneasiness about potential danger; 'alarm' calls signify immediate danger
Geese evacuate without waiting to identify the source
Covers up to 7 acres
Fully programmable – you control settings; optional selection of coyote bark and gunshot sounds
Device automatically prevents acclimation: calls differ in frequency, duration, and intervals; sound combinations, sequences and speakers change randomly to give a perception of troubled geese moving through many locations
Weather resistant – NEMA type box is designed to withstand outdoor use
*Proven effective in university-conducted field studies:
Download the original research paper, Successful Use of Alarm and Alert Calls to Reduce Emerging Crop Damage by Resident Canada Geese, or an illustrated poster version presented at the Bird Strike North American Conference.
Applications
Repels pest birds including geese, ducks, mallards and other waterfowl.
Effective coverage up to seven acres (up to 21 acres from two units).
Recommended for large outdoor areas experiencing geese infestations, such as:
Parks, ponds & other waterfront property
Airports & airfields
Golf courses
Cemeteries
Corporate grounds & condo complexes
Yards & large estates
Marinas & docks
Warehouses & storage facilities
Farms, barns, stables & sheds
Parking lots
Etc.
Benefits
Cut recurring cleanup and repair costs
Protect landscaping, water quality, and property from corrosive bird droppings
Reduce health and liability risks associated with pest bird infestation
Prevent the spread of diseases, such as West Nile, Salmonella and E. Coli
Avoid government and safety inspection failures
Save parks, yards, corporate grounds, pools, ponds, turf, etc. from bird damage
Increase/maintain property aesthetics
Decrease nuisance for residents, workers, customers, etc.


Add & Combine
Specs
Dimensions: Control Unit 9" x 9" x 5.25", Speakers 10" x 8" x 5"
Box dimensions: 25" x 19" x 7" / Shipping weight: 20 lbs
Speakers: 8 ohms, 30 watts
Power Requirements: 1 amp 110v or 220vAC adaptor, or 12vDC
110v cord is 50 ft / 220v and 240v cords are 6 ft
Sound Pressure: 0–110 dB at 1 meter (each speaker)
Frequency: 500–1500 Hz
Compliance: Supply power source is UL, CUL and CE listed
EPA Registration: EPA 62617-OR-001
NEMA type box
Please note 240v adapter option – UK style pins only. Unit will work with locally sourced 12v/240v adapters. Please contact customer service for other options.