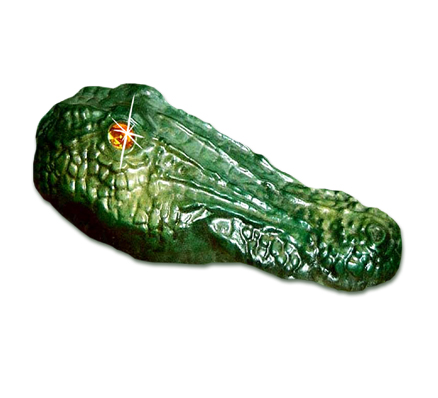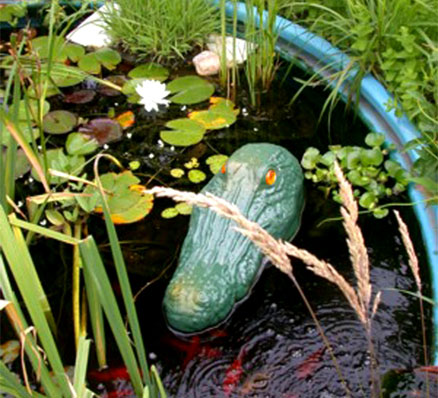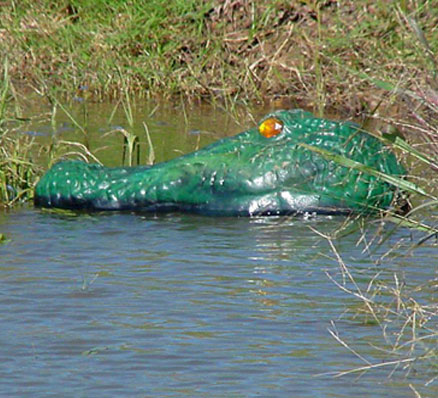 Loading...
Guaranteed to be manufactured to specifications and free from defect at the time of purchase.
Gator Guard
Keep birds away from lakes, ponds, golf courses, pools and more with a realistic, floating, moving predator alligator head.
Mirrored-back eyes flash in the sun, intimidating pest birds
Gator moves and bobs with the wind and water, appearing lifelike
Effectively scares geese and other waterbirds
Gator Guard can be used in many applications and the realistic design makes it an interesting and attractive addition to your landscaping!
CLICK HERE to see Gator Guard in the news.


Temporarily Out of Stock. Stock expected to arrive late-July. Reg. price $67.60
Reviews
I bought the Gator Guard after losing half my Koi from our pond. This thing has saved my fish. Not only has it saved my fish, but keeps the ducks and heron and any other large birds from my property and above ground pool ever since. I let it float on the water and the water is always moving via the waterfall or the fish swimming.
–Mick R. from Point Pleasant, NJ
I've had great success with the Gator Guard in my fish Pond! This is the first year I haven't had to chase ducks away.
–Katherine from West Tisbury, MA
My husband bought the Gator Guard for the golf course we play at. They are having a terrible time with geese. I had my reservations that this thing would work but 10 minutes into this thing being placed in one of the ponds those geese would not go into the pond. They were squawking and carrying on. Several hours later those geese were still spooked. The eyes in the unit are quite menacing in the sunlight. The only downside is that it does get stuck in any weed growth but I would imagine you could use some type of anchor to place it in the middle of a pond. There is a heron at the course and we didn't see her in the pond where the alligator was placed. Works great.
–James M.
Details
Floating predator replica
25 threatening inches long
Moves and bobs with the wind and water
Life-like eyes flash in the light
Effective worldwide – even where alligators don't live – as this fear is instinctive, not learned
Waterproof, weather proof, no sun fade
Applications
Repels pest birds including geese, ducks and other waterbirds.
Effective where visible up to one acre.
Recommended for use in small bodies of water with the following applications:
Lakes, ponds, koi ponds & pools
Golf courses & parks
Corporate grounds, hospital grounds & school campuses
Homes, large estates & condo property
Fish or shrimp farms
Etc.
Benefits
Cut recurring cleanup & repair costs
Save parks, yards, corporate grounds, pools, ponds, turf, etc. from bird damage
Reduce health and liability risks associated with pest bird infestation
Increase/maintain property aesthetics
Decrease nuisance for residents, workers, customers, etc.


Add & Combine
For maximum, sustained success in your bird control efforts, a synergistic approach is recommended. Synergy is the interaction of two or more forces producing a combined effect that is greater than the sum of their individual effects. We often recommend companion products – combining sonic repellent devices with visual scares or scent and taste aversions. This kind of multi-sensory attack is extremely effective in deterring pest birds from an area permanently.
Companion Products:
Specs
Dimensions when folded: 10" x 10"
Dimensions when set up: 28" x 14"
Box dimensions: 13" x 11" x 6" / Shipping weight: 3 lbs
Material: Made from durable coraplast
Proudly made in the USA
Download Gator Guard Instructions