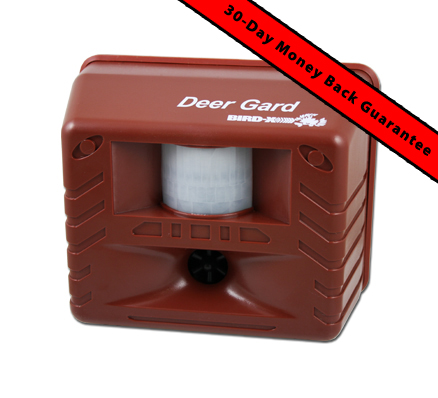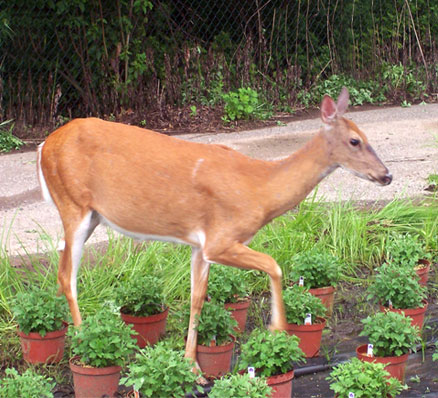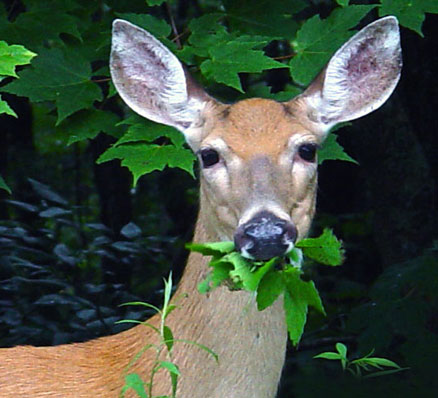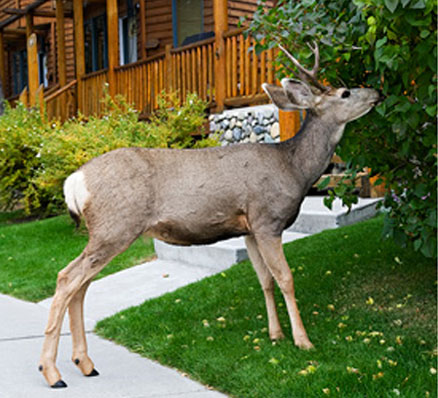 Loading...
Backed by our 30-day electronics performance satisfaction guarantee AND our 6-month manufacturer's warranty against material defects.
Deer Gard
MONEY-BACK GUARANTEE!!
This electronic deer repellent device keeps deer away from property without messy or expensive chemical solutions.
Ultrasonic "silent-to-humans" sound waves
Motion-actived
Covers up to 4,000 sq. ft.
Reviews
They said it wouldn't work but they were wrong!!! Deer Gard works great. I read another review that said to use AC not batteries so I took the advise. I have deer in my forest not a 100 feet from my plantings around my house. Since I started using the Deer Gard the deer haven't eaten any of my plants, even the roses! All our friends said nothing would keep the deer away except maybe a dog. They were all wrong.
-D. Landtbom, San Pablo, CA
Scarem! Was skeptical at first; but, became a believer when deer and squirrels would not come within 50 ft. of unit. Saved our cherry tree! The emitted sound waves truly work.
-W. Chopper, PA
The Deer are staying away. Before we started using this product the deer were eating our plants. It was so irritating to look out and see that they had once again chewed all the leaves off our plants. After plugging this in, we haven't had any problems with the deer eating our plants. I have ordered another for the front area of our house. I recommend this highly.
-S. Martinez, High Country, AZ
Works great! This product has works great! I have tried many sprays and other products to keep the deer out of my gardens. This is the first thing that really kept them away. It is easy to set up and use. It blends into the landscape quite nicely, and is not intrusive. The deer no longer graze in my yard, eating all my flowers. They decided to graze elsewhere!
-K. Morel, US
Details
Electronic ultrasound repellent device
Covers up to 4,000 sq. ft.
Built-in infrared motion detector activates when deer move into its coverage area
Continuous or motion-sensor operation modes
Mount anywhere with keyhole slots
Applications
Repels deer and other pest animals.
Effective coverage up to 4,000 sq. ft.
Recommended for use in outdoor areas, such as:
Lawns & gardens
Around shrubs, ornamental plantings, etc.
Benefits
Protect lawns, gardens, shrubs and other plantings from damage caused by deer.
Add & Combine
For maximum, sustained success in your bird control efforts, a synergistic approach is recommended. Synergy is the interaction of two or more forces producing a combined effect that is greater than the sum of their individual effects. We often recommend companion products – combining sonic repellent devices with visual scares or scent and taste aversions. This kind of multi-sensory attack is extremely effective in deterring pest birds from an area permanently.
Companion Products:
Available Accessories:
Specs
Dimensions: 7" x 6" x 4"
Box dimensions: 10" x 8" x 4" / Shipping weight: 3 lbs
Coverage: 4,000 sq. ft.
Frequency: 15–25 kHz (adjustable)
Sound Pressure: 90 dB at 1 meter
Electricity Costs: Less than $0.25 per month
Compliance: EPA Est. 058480-TWN-001. CE marked
Motion Sensor Range: 35' x 70'
Working Current: <200mA
Power Supply: 4 x 1.5V "C" batteries or 120vAC adaptor. Other voltage adaptors should be purchased locally. Unit switches to battery power during a power failure (if batteries are in).
All versions of AC Power Cord are 30 ft
Download Deer Gard Instructions