Chicago organization gives job training to disadvantaged residents - Bird-X shows support by hiring grads.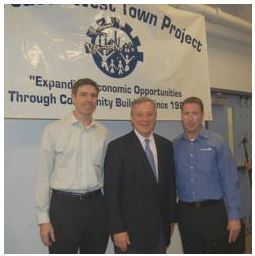 The Greater West Town Partnership in Chicago provides educational and employment opportunities to disadvantaged local residents through hands-on training and job placement services. Bird-X, Inc. and other location companies hire skilled GWTP grads - this makes the program a win-win situation for the companies involved and the West Town community residents.
The Greater West Town Partnership is a community development organization located on Chicago's west side that provides educational opportunities, hands-on job training and employment resources to disadvantaged residents in the area. The program teaches members technical skills and basic work ethics so that after graduation they are fully-trained and ready for employment.
GWTP has two areas of emphasis – the Woodworking classes and the Shipping and Receiving classes. While the training program itself is extremely important, the job placement service is what makes GWTP life-changing for so many.
One company that has been very involved with the Greater West Town Partnership for years is Bird-X, Inc. Bird-X is a local business – founded in Chicago in 1964. Bird-X Director of Operations, Jimmy Marks, has served on the GWTP Shipping and Receiving Advisory Board for over eight years. With his experience at Bird-X, Marks is able to provide valuable real-life insight and guidance to the warehouse program. Plus, he facilitates the hiring of GWTP graduates at Bird-X.
Bird-X manufactures and distributes 'green' pest animal and bird control products to clients all over the world as well as major retailers. The Shipping and Receiving Department requires skilled and responsive execution of complex orders. Immediate access to skilled workers is key for handling order surges.
"Right now, we have two full-time employees and one part-time who came from Greater West Town," says Marks. "They have been an excellent addition to the Bird-X family."
The Director of Training at the Greater West Town Partnership, Bob Fittin, describes the Shipping and Receiving program as having about 20-25 individuals per class, with two graduating classes per year. Each program is twelve weeks long, five days per week, seven hours per day. GWTP has access to 25-50 local companies for job placement; a recent study conducted by the state indicated that approximately 70% of graduates were still at the same job after a year.
Fittin explains, "We have companies like Bird-X who, when they need a person, give us a call. We appreciate repeat business and we strive to make a win-win match when we work with a company to place a student."
Last month, Senator Dick Durbin toured the GWTP facilities, including the Shipping and Receiving Warehouse. Senator Durbin was extremely impressed with the facility, the equipment, and the skillset of the trainees. He was also impressed with how well the program was being received by the community and the hiring businesses.
Jimmy Marks had the opportunity to meet with Senator Durbin during this past month's visit (as seen in the photo above) as well as back in 2004 when Durbin visited GWTP with then-presidential candidate John Kerry and then-Senator Barack Obama. Important people continue to take interest in the Greater West Town Partnership. Hopefully more and more companies like Bird-X will take interest in supporting this community-building effort by hiring GWTP graduates who are doing their best to work toward a better life.