A Safe, Ultrasonic Cat Deterrent
Keep cats out of your yard—humanely.
It is not uncommon for neighbor cat owners to allow their cats to roam free outdoors. And that's fine, until the their cats decide to use your property as a litter box or play area—and that's where a cat deterrent comes in! We have heard complaints of neighbor's cats defecating in yards, pooping in mulch, digging up gardens, lounging on decks and patios, walking along window sills, and even intimidating residents and other pets. If male 'tom' cats are unneutered, they will also often spray urine to mark their territory – resulting in unpleasant messes and foul odors.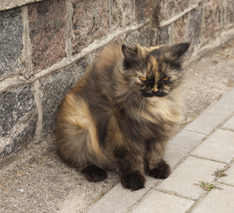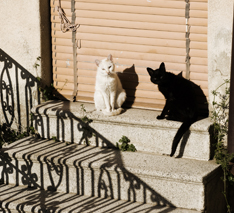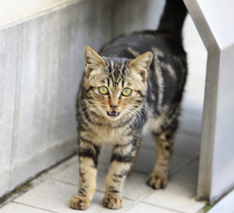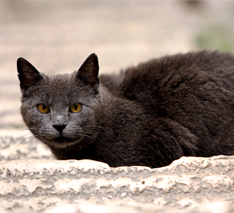 Here at Bird-X, many of us are cat lovers as well as cat owners. However, we understand that it is sometimes necessary to deter cats from certain areas. Whether the unwanted trespassers are stray cats, feral cats or a neighbor's wandering cats, you probably want a discreet, humane, and effective cat repellent.
For yards, gardens, and areas up to 3,000-4,000 square feet: The Yard Gard and Solar Yard Gard are electronic ultrasonic repellents that use sounds out of the range of human hearing to irritate pest animals, like unwanted cats, repelling them from your property. Because the soundwaves are nearly silent to the human ear, these products can be used within residential areas. With specific pest animal settings, and continuous or motion sensor operation modes, these devices are effective, low maintenance products. If larger outdoor areas are in need of protection, contact us for the best way to achieve maximum results.
For a plant and flower safe option: Nature's Defense: All Purpose Animal Repellent is an all-organic deterrent making it environmentally safe, family safe, pet safe, & plant safe. Compared to similar products that contain blood, urine, or rotten egg, this formula has no harmful chemicals added to the formula. By applying Nature's Defense weekly to the infested area, a scent barrier will be created to irritate unwanted pests. Not only will pest cats be deterred, but over 20 additional pest species will forced away from your property.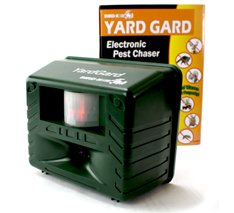 Electronic animal control system uses ultrasonic frequencies to keep mice, squirrels, deer & other small animals away.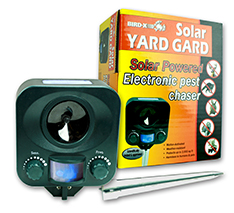 Solar-powered, electronic animal control system uses ultrasonic frequencies to keep mice, squirrels, deer & other small animals away.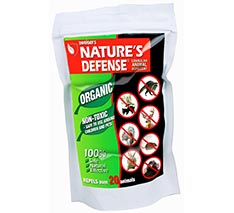 Scent & taste aversion granules keeps pest animals away.
Yard Gard devices as a Humane Cat Deterrent:

Excellent safe stray cat control!
I received my yard gard about 4 weeks ago. Chose plug-in instead of battery for continuous action. Reason for purchase was many stray cats using my yard and gardens as a toilet. Love the product!! Only effective deterrent thus far!! I have not had one cat in my yard since I installed it. No kidding! I tried many other safe deterrents posted online. Nothing else worked. Money well spent! I have my positioned in front yard up against house facing street. I have indoor cats and they aren't affected at all. :-) I am going to purchase another yard gard unit for vegetable gardens in backyard!! Very satisfied customer! -B. Hoover


I'm so satisfied with this Bird-X product that I can't think of anything else I bought that fulfilled my needs! My property is between two barns and my yard is the pathway and dump site for more feral cats than you can count. Since I plugged in the two units I purchased, I haven't cleaned cat s#!t before I mow and I used to clean up a dozen or better piles a day but not anymore. Love these units... -Tom O.

What is the difference between feral cats and stray cats?
Feral cats are born and raised 'in the wild' / outdoors without human contact. Stray cats are pet cats that have been lost or abandoned.
Why keep cats out of your yard? Feral cats are most likely unneutered/unspayed – making them aggressive and territorial. The following behaviors can be a problem:
Cats pooping on property
Cats fighting and causing disturbances; hissing, growling and other loud mating behavior
Cats breeding; increasing the population of feral cats
Male cats spraying to mark territory, leaving strong foul odors
Flea infestation
Feral cats are also typically unvaccinated, leaving them vulnerable to disease including a few that can be transmitted to humans:
Salmonellosis
Bartonellosis – also known as 'cat scratch disease'
Cryptosporidiosis
Toxoplasmosis (often transmitted via exposure to / consumption of infected mice)
Campylobacterosis
Feline rabies is also possible and transmissible if bitten
If you believe feral cats in your neighborhood are breeding, consider contacting your local humane society; or if available, a local catch/release program (programs made of volunteers who humanely catch feral cats, have them spay/neutered, then release back into their area; this will cut down on mating behaviors and spraying, as well as prevent further breeding).