Bug Monitors
Bed Bug Monitors
Bird-X Bed Bug Monitors are simple, discreet, and can be used in any environment. These small, clear plastic bug monitors actively lure bed bugs (if they are present or nearby) into the secure packaging, where they become stuck to the adhesive coating / glue board.
Most bug traps and glue boards only catch the critters if they happen to crawl across that particular surface, requiring a lot of waiting and guessing. Bird-X Bug Monitors feature semiochemicals that actively lure nearby bugs into the monitor, where they become stuck to the lure board's adhesive coating. Once captured, it is important to confirm and identify bed bugs so that you are able to quickly find the best solution before a more serious infestation occurs.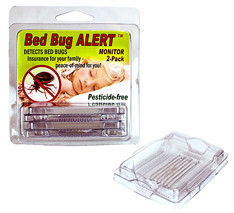 Bed beg monitors actively lure & trap bed bugs if they are present; detect a problem before infestation takes hold.
PRODUCT FEATURES
Proprietary attractant gel contains semiochemicals that actively lure nearby bed bugs into the monitor where they become stuck to the lure board's adhesive coating
Safe, secure plastic harborage surrounds the lure board so that any trapped bugs are out of reach from children and pets
Harborage withstands weight, pressure, and moisture
Can be used in high humidity areas
Can be easily handled, moved, and placed in tight spaces without compromising the lure
Small, clear, discreet monitors can be placed anywhere bugs are suspected
Clear viewing window makes inspection simple; can be checked daily and reused
Increased shelf-life – the interior lure board has a paper liner that keeps the chemical lure and the surrounding adhesive fresh until ready to use – just peel and place
Chemical lure is isolated from the adhesive to increase the active attractant effect
Five low-rising textured entrances encourage bug entry
Large adhesive surface area
Dimensions: 2.875" x 1.9" x 0.43" / weight: 5 grams
Snap-top allows user to easily dispose of bugs and reuse monitor