Bird-X Inc. Hires New Marketing Coordinator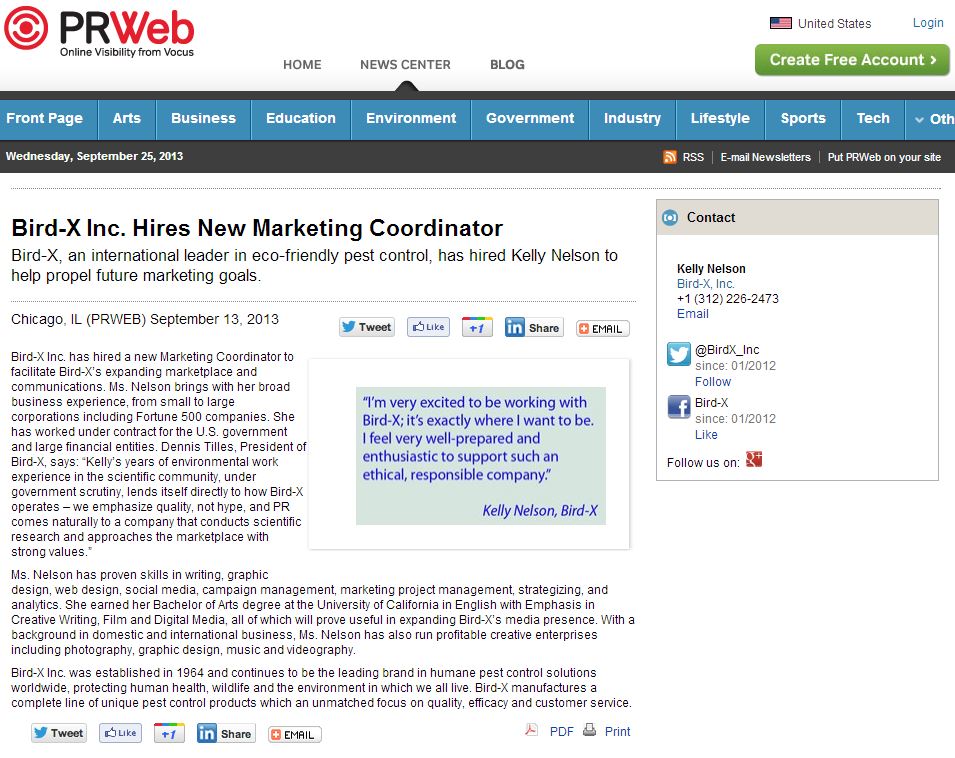 Bird-X, an international leader in eco-friendly pest control, has hired Kelly Nelson to help propel future marketing goals.
Bird-X Inc. has hired a new Marketing Coordinator to facilitate Bird-X's expanding marketplace and communications. Ms. Nelson brings with her broad business experience, from small to large corporations including Fortune 500 companies. She has worked under contract for the U.S. government and large financial entities. Dennis Tilles, President of Bird-X, says: "Kelly's years of environmental work experience in the scientific community, under government scrutiny, lends itself directly to how Bird-X operates – we emphasize quality, not hype, and PR comes naturally to a company that conducts scientific research and approaches the marketplace with strong values."
Ms. Nelson has proven skills in writing, graphic design, web design, social media, campaign management, marketing project management, strategizing, and analytics. She earned her Bachelor of Arts degree at the University of California in English with Emphasis in Creative Writing, Film and Digital Media, all of which will prove useful in expanding Bird-X's media presence. With a background in domestic and international business, Ms. Nelson has also run profitable creative enterprises including photography, graphic design, music and videography.
Bird-X Inc. was established in 1964 and continues to be the leading brand in humane pest control solutions worldwide, protecting human health, wildlife and the environment in which we all live. Bird-X manufactures a complete line of unique pest control products which an unmatched focus on quality, efficacy and customer service.