Bird-X Announces Four New Products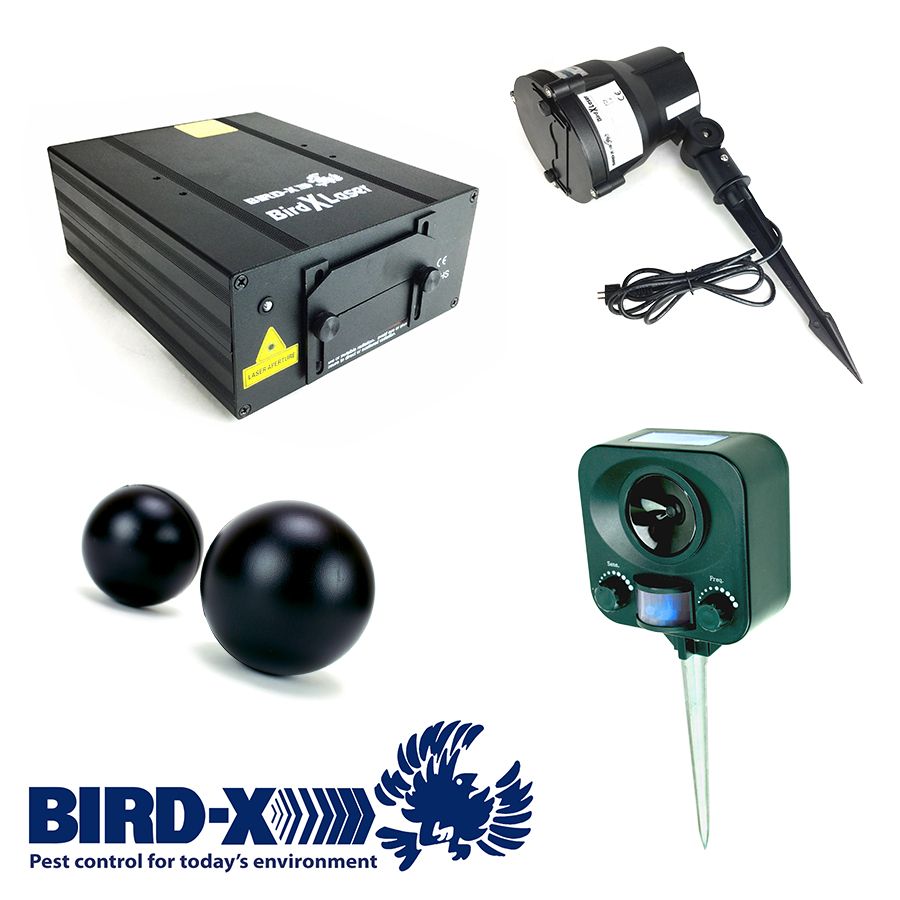 The world's leader in humane bird and pest control, Bird-X, made four new additions to its dynamic line of bird control products—Bird-X Lasers for Indoor and Outdoor use, the Solar Yard Gard, and Floating Bird Balls. These bird control solutions embody Bird-X's sustainable approach to pest control by offering results while staying safe, humane, eco-friendly, and extremely effective.
Both the Bird-X Laser for Indoors and the Bird-X Laser for Outdoors deliver state-of-the-art laser technology that scares pest birds and keeps them away. Red and green laser beams seek out bird roosting spots, which alarm and confuse the pests. The beams constantly change patterns to prevent acclimation. Both laser options feature a remote control for access anywhere, and the Bird-X Laser for Outdoors includes a mounting base for easy installation.
According to Bird-X, the Bird-X Laser for Indoors and the Bird-X Laser for Outdoors are helping expand the market due to a higher accessibly, as these products offer lower prices and better value to the consumer.
Another new release targeted for home-use is the Solar Yard Gard, a solar-powered electronic pest chaser that targets deer, rabbits, raccoons, squirrels, skunks, opossums, armadillos, rodents, bats, and more. The Solar Yard Gard uses a built-in motion detector to activate ultrasonic technology when pests move into its 3,000 square-foot coverage area, and it never needs batteries. Ultrasonic soundwaves deter pests from yards, gardens, and other areas, and offer a maintenance-free pest control option.
Bird-X also teamed up with manufacturer ECC, LLC., in order to add Floating Bird Balls to its collection of diverse pest control solutions. Floating Bird Balls are an eco-friendly way to prevent pest bird problems in water, such as retention ponds near airport runways, by blocking birds from landing on the water's surface, while maintaining the water's ecosystem. According to the manufacturer's website, these balls are also ideal for algae control, ammonia reduction, evaporation control, odor control, and storm water management. Due to their shape, they rise and fall with the rising and lowering influx of water.
"We [at Bird-X] are extremely excited about our partnership with ECC, LLC., as it has afforded us the opportunity to reach into new markets, and leverage our pest control [methods] in the waste management, aviation, water filtration, and corporate markets," Josh Pierce, Bird-X National Sales Manager, said.
For more information on these items, or any of Bird-X's bird and pest control products, please call the Bird-X customer service line at (800) 662-5021.