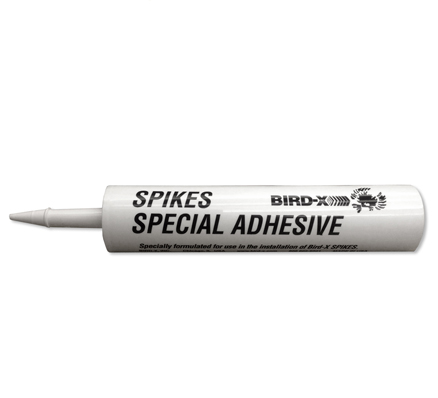 Loading...
Guaranteed to be manufactured to specifications & free from defect at the time of purchase.
Bird Spikes Special Adhesive
Saves Time on Spike Installation

Designed Exclusively for Bird-X Spikes

Exceptionally Strong Bonding Power
Spikes are 100% Effective everywhere they are placed. Spike Adhesive ensures proper bonding of your spike installation.
Weatherproof
Extremely durable
Works on a wide range of materials
1 tube secures approx. 10 ft of plastic or stainless steel spikes
Starting at $10.80 NOW $9.00
Reviews
Details
Tube measures 10.1 fl. oz (300 ml)
Non-flammable material
Use with a standard caulking gun or the Bird-X Adhesive Gun
Spikes 10 ft. > 1 tube
Spikes 25 ft. > 2 tubes
Spikes 50 ft. > 3 tube
Spikes 100 ft. > 5 tubes
Applications
Use to secure Bird-X Spikes:
Effectively Repel:

Ideal For Use At:


Homes & Garages

Rooftops & Windowsills

Signs, Billboards & Light Posts

Chimneys & Ledges

Areas Above Cars, Gates, Fences

Playgrounds, Beams & Rafters

Porches, Patios, & Balconies

Gates, Fences, Barns, Stables
Benefits
Makes spike installation projects much faster vs nails, screws, or tie methods
Special Adhesive is created specifically for Bird-X spikes, ensuring proper adhesion
Unlike many common adhesives:
Safe to ship by air
Non-flammable material
No hazardous waste
Add & Combine
Specs
Case Studies