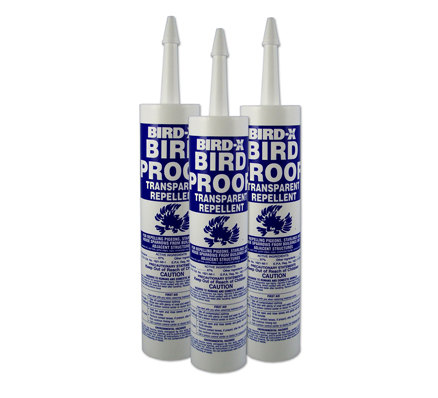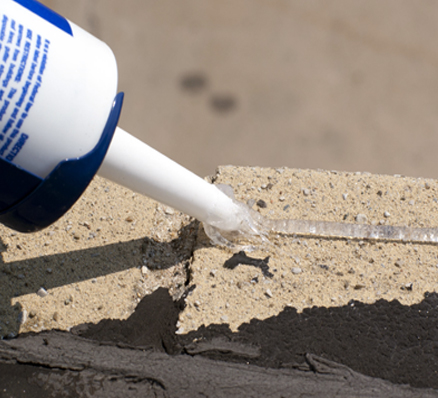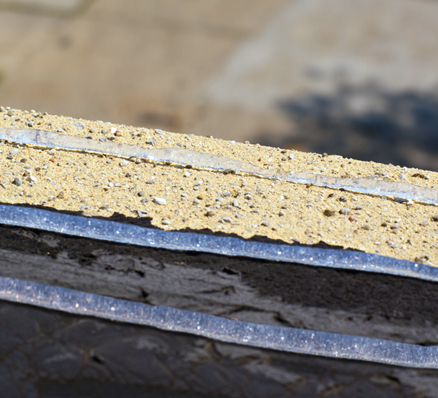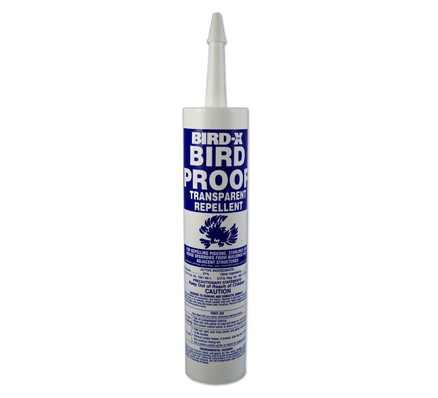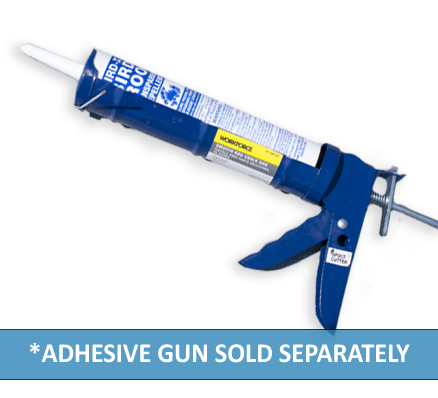 Loading...
Guaranteed to be manufactured to specifications and free from defect at the time of purchase.
Bird Proof Gel
Non-toxic, tacky bird repellent gel. Can be used on ledges, sills, beams, rafters, signs, statues and hundreds of other outdoor surfaces to prevent pest birds from roosting. The gel does not harm birds – it simply makes surfaces uncomfortable, intimidating and uninviting. USE AS DIRECTED.
Discreet / nearly invisible – great for high-profile applications

Cost-effective, simple bird control method

Lasts for about a year on average, depending on area conditions

If birds see Bird Proof Gel, they are not likely to land upon it. If they do land, they will find the sticky surface to be uncomfortable & won't stay for long. They learn over time and do not return to the treated surfaces.
NET WEIGHT: 10oz (283g) per tube
Reviews
My neighbor likes to feed pigeons. Last year I called an exterminator to keep the birds off my roof so they won't poop all over my house. The exterminator took a caulk gun and squirted a few rows of this Bird-X gel on my roof. The birds quit landing.
–Anonymous
I just wanted to let you know about your product's effectiveness around our house. For the past 7 years (during May and early June as the weather warms dramatically in our area of California) due to our house's high roofline we have been inundated with swallows. And are they messy! We tried scare devices, vinegar, water spray, etc. Nothing seemed to stop those birds. They are relentless in their desire to roost under our eaves where they can build nests between the stucco and eaves. Pretty much our last hope was your Bird Proof Gel. In April we had our trusted painter apply about a 3/16" strip along the stucco, just under the eaves all the way around the house. Around May 1 some waves of swallows showed up but did not even leave so much as a spot of mud. Since then we have seen a few fly by, but as soon as they are close to the eaves they leave. Thank you for providing a product that really does the job, and saves me from the job of cleaning up after our feathered friends.
–Dan W. from Pilot Hill, CA
Whew – what a mess we had with pigeons! There were two spots that were especially pleasing to these creatures. Both were under the upstairs eaves, where two different roof lines meet. It was almost impossible to get up there, so, my hubby came up with the idea of putting the Bird Proof on a roller attached to a telescoping rod – leaning out the window and applying the Bird Proof Gel that way. The neighbors thought we had lost our minds – but boy did that stuff work!! Before Bird-X we had at least 40 to 50 pigeons on our roof every day and night. Now – ZERO!!!!!!!!!! THANK YOU!
–Diane
I want to thank the very nice sales lady for guiding me in the right direction. She made my day! My problem was that many common house sparrows were invading my aluminum canopy by building nests, having their young and just creating a real nuisance. It got so bad, we couldn't enjoy sitting outdoors. After removing the nests, grass, etc. from the gutters, I applied one application of Bird-Proof Gel to the ledges and to my amazement the birds were gone. Not one bird entered the canopy after I applied the Gel. It seems like that they just knew that something was different. It's a great product.
–Joel J. from Cottonport, LA
This unsolicited testimony of extreme satisfaction for your product "BIRD PROOF GEL REPELLENT" is not intended to be patronizing. However: when you come across a product that is new to you and does what it says, you become overwhelmed and want to tell the "whole world". Your Gel Repellent was applied over a year ago and shows no sign of deterioration and best of all the birds (mostly big ravens and terns) no longer come near our building.
–Leroy, O.
Anybody who's got 'em knows what a problem cliff swallows can be. Simply knocking down the nests has little/no effect. With mud available, these birds require less than a week to rebuild. Time spent each summer knocking down nests is considerable. Desperate for a better solution, we tried this Bird Proof Gel, and the results were nothing short of amazing. Birds do not like the smell of this stuff. You don't have to cover every square inch, just a little smear will do the trick. Buildings I've applied this stuff to in the beginning of May are still bird-free, so it looks like one application will last through the breeding season. Success rate is almost 100%. This stuff isn't just for swallows – it apparently will work on a wide range of birds. You've got to check this product out! If you have as big a problem with birds roosting on your airfield as we have, I bet you'll be pleasantly surprised.
–Sgt. Philip R. from Grand Forks Air Force Base, ND
Your product is working GREAT. No bird droppings since the gel was applied. None! And we have seen birds walking around the swingset, on the ground, probably frustrated! Keep up the good work.
–Scott, W. from North Kingstown, RI
My husband recently received the bird-proof gel and it's the first product that he purchased that actually worked. The bird poop on the new black roof was driving him crazy, he was driving me crazy and it was becoming costly. Prior to the purchase of the Gel we spent approximately $700+ on bird-proof products.
–Suzanne W. from Manorville, NY
Earlier this month I ordered 2 cartons of Bird-Proof Gel cartridges. This product totally solved a problem we have faced for the past seven years. Starting approximately June 15th and lasting for a full month, we have been infested with MUD SWALLOWS. These birds build their nests just under the soffit and on the stucco walls of the two-story or taller houses in our neighborhood. The nests they build are made of mud and make a real mess of the houses and the surrounding decks and living areas that we would like to use during the somewhat short summer time we get to enjoy. We applied a thin bead of the gel approximately 2" down from the soffit on the stucco wall and have enjoyed watching the bird fly to alternate nesting areas. Thank you and we will be ordering more for our annual application.
–Terry from Calgary, Alberta, Canada
Details
Applies easily to any ledge or landing surface
Minimal upkeep required – gel remains effective for up to a year!
Low-profile and discreet
Birds learn over time not to return to locations that have been treated with Bird Proof Gel
Applications
Repels pest birds including pigeons, starlings, house sparrows and more.
Effective coverage: 10 linear ft. per tube (case of 12 covers 120 linear ft.)
Recommended for use on any surface birds can land on, especially high-profile surfaces where aesthetics are a priority:
Windowsills & ledges
Rafters, beams & poles
Signs & statues
Chimneys & pipes
Air conditioners & other equipment
Etc.
Benefits
Cut recurring cleanup and repair costs
Protect rooftops, walls, equipment and vehicles from corrosive bird droppings
Reduce health and liability risks associated with pest bird infestation
Prevent the spread of diseases such as West Nile, Salmonella, and E. Coli
Eliminate fire hazards caused by birds building nests in vents and chimneys
Avoid government and safety inspection failures
Increase/maintain property aesthetics
Decrease nuisance for residents, workers, customers, etc.
Add & Combine
Bird Proof Gel is a physical deterrent that can be applied to many surfaces. However, it is difficult to protect every surface on a large property or across a wide area. For extended coverage, we recommend companion products with the Bird Proof Gel, such as bird spikes, sonic repellers, and/or visual scares. This multi-sensory attack will make the entire area inhospitable to birds, forcing them to find a new habitat.
Available Accessories:
Safety Solvent Adhesive Gun
(Bird Repellent Remover)
Companion Products:
Bird Spikes: Stainless Steel Terror Eyes BirdXPeller PRO BroadBand PRO
Specs
NET WEIGHT: 10oz (283g) per tube (each tube will cover 10 linear feet)

Unit dimensions: 12" x 2" x 2"
Weight: 1 lb
3-Pack dimensions: 13" x 5" x 5" / Shipping weight: 3 lbs
Case of 12 dimensions: 8" x 6" x 12" / Shipping weight: 10 lbs
Download Bird Proof Gel Instructions
Download Bird Proof Gel MSDS (Material Safety Data Sheet)
*IMPORTANT NOTE: Small birds may become fatally entrapped by this tacky repellent. To reduce hazards to legally protected species, and to avoid noncompliance with the Federal Migratory Bird Treaty Act, follow all instructions carefully. Keep out of lakes, ponds, and streams. It is a violation of Federal law to use this product in a manner inconsistent with its labeling. Read all instructions sheet before beginning and follow all use directions and precautions.