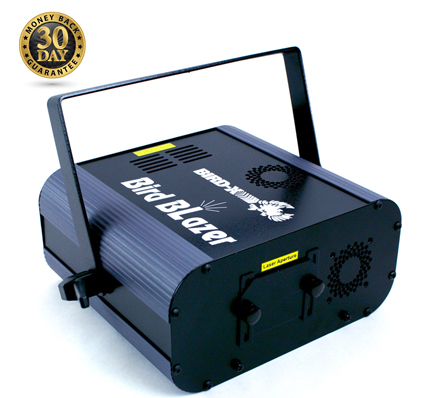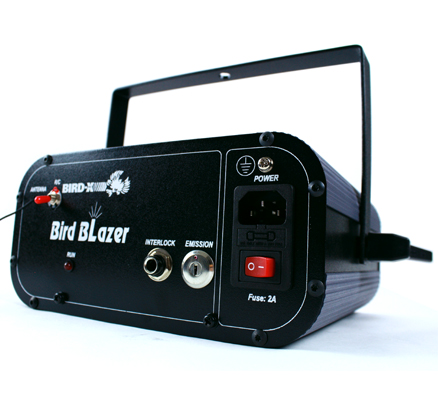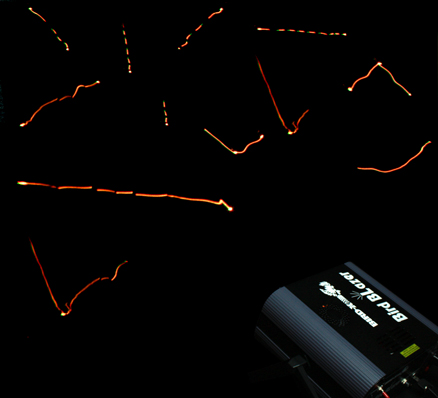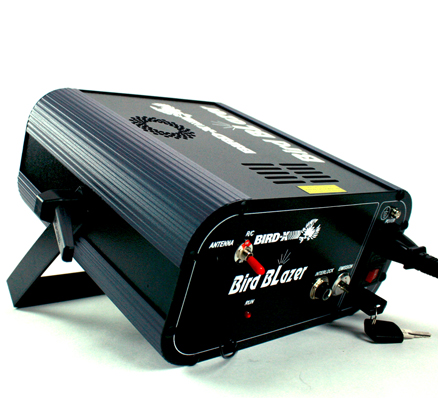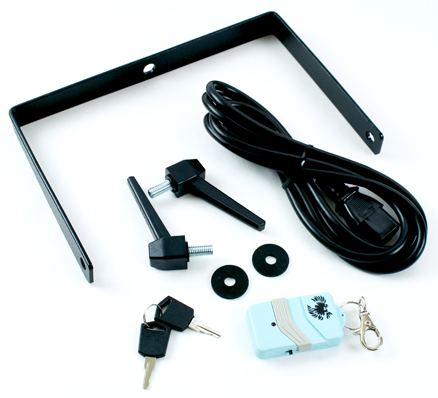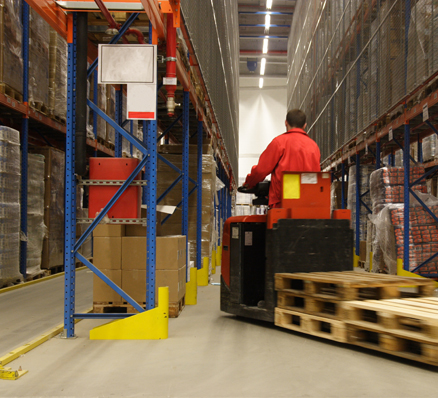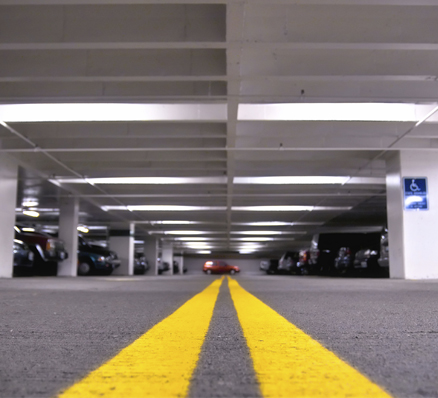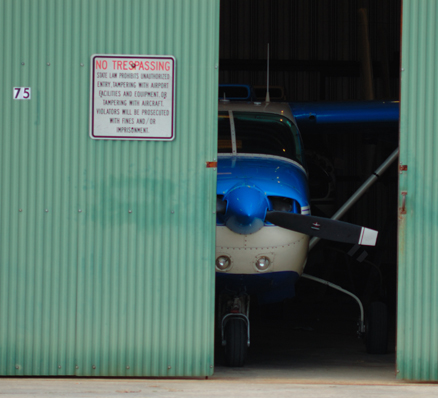 Loading...
Backed by our 30 Day Electronics Performance Satisfaction Guarantee AND our 6 Month Manufacturer's Warranty Against Material Defects.
Bird BLazer®
Laser Bird Control Device

Silent, Humane, & Extremely Effective

Protects Indoor Spaces from Bird Damage



Money-Back Guarantee
Remote controlled laser bird control device safely frightens birds away. The Bird BLazer® uses fat-beam laser technology at random intervals in color combinations birds hate, forcing them to find calmer landing areas.
World's first indoor laser bird repellent device
Lasers appear in 3 alarming colors detectable by birds
Randomized laser patters constantly change to prevent acclimation
Remote control included for access anywhere
Covers up to 10,000 sq. ft.
Testimonials

The beam doesn't even have to hit them. If it passes close to them, they flee the area. We've had no problems since we installed them.
–Ian Tibboel, owner of an animal removal company in Des Moines

We were called in to help a large animal livestock research company that was plagued by large flocks of birds for quite some time. Many starlings and some pigeons kept on coming and going, and there were multiple entrance points that hadn't been sealed off. They were ripping apart the building's insulation, and their droppings necessitated a lot of frequent pressure washing – maybe two or three times a week. The facility was a wide-open building so netting and other methods were not cost-effective controls.
I phoned Bird-X and they were very helpful in answering my questions. I purchased two Bird BLazer units, installed them at opposite ends of the building, and activated them. The pigeons reacted immediately and fled. The vast majority [of starlings] were frightened off after about a week or so.
–Anonymous
Reviews
Details
Fat-beam laser technology safely frightens birds away

State-of-the-art, fully registered, consumer-safe device

Works day & night (daytime in darker areas, though many choose to just use at night)

Laser beams constantly change patterns & location to prevent birds from acclimating
Applications
Recommended for use in large indoor areas or semi-enclosed spaces. Effective coverage up to 10,000 sq. ft.
Effectively Repels:

Ideal For Use At:

Warehouses & Manufacturing Facilities

Barns, Stables, & Storage Sheds

Parking Garages, Lots, & Car Washes

Tunnels, Underpasses, & Breezeways

Sports Arenas & Convention Centers

Loading Docks & Transportation Platforms

Airplane Hangers

Boat Houses

Facilities & Corporate Grounds

Apartments & Condo Buildings

Covered Walkways
Benefits
Cut recurring cleanup & repair costs
Protect property & equipment from corrosive bird droppings
Reduce health & liability risks associated with pest bird infestation
Prevent the spread of diseases, such as West Nile, Salmonella, & E. Coli
Eliminate fire hazards caused by birds building nests in vents & chimneys
Avoid government & safety inspection failures
Increase/maintain property aesthetics
Decrease nuisance for residents, workers, customers, etc.


Add & Combine
For maximum, sustained success in your bird control efforts, a synergistic approach is recommended. We often recommend companion products – combining sonic repellent devices with visual scares or scent & taste aversions. This kind of multi-sensory attack is extremely effective in deterring pest birds from an area permanently.
Companion Products:
BirdXPeller PRO Bird Netting Terror Eyes Bird Spikes CritterBlaster PRO
Specs
Product Dimensions: 8.5" L x 8.75" W x 4.5" H (8" H with mounting attachment)
Box Dimensions: 12" L x 12" W x 7" H
Weight: 10 lbs
Coverage: up to 10,000 ft.
Laser Power: 10mW FAT BEAM
Unit Power: 50 watts
Laser Color: 4.9mW RED + 4.9mW GREEN
Power: AC 100v~120V or 220V~240V, at 50/60Hz
Electric Current: 110v = 0.45 amps 220v = 0.23 amps
Classification: 3R
Fuse: 20mm x 2A slow-blow
Housing: Metal
Beam Divergence: <1.5 mrad
Operating Temperature: 64–77°F/18–25°C
Safe Temperature for Use: 41–104°F/5–40°C
Download Bird BLazer® Instructions
Case Studies