Are "Mutant Super Rats" Taking Over Western Civilization?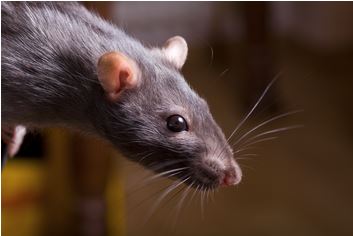 Poison-resistant "super rats" are being reported in Britain as the rat population booms in New York. Bird-X, alternative pest control experts for 50 years, reports.
Why the sudden spike in the news about rats in Europe and America? Bird-X investigates the headlines.
Reported in The Telegraph on June 27, poison-resistant "super rats" are quickly breeding in the UK and are expected to outnumber the area's human population by next year. The article entitled "Rise of the Super Rat" states that, "Humans have been using the same rat poisons since the 1950s, and scientists are concerned that the rodents have developed a mutation that makes them immune." These rats are also reported to be growing larger in size.
Earlier this month the New York Daily News reported record rat infestations throughout the city, estimating a local population of some 16.8 million rats (double the city's population) and growing. Health Commissioner Mary Bassett stated in the report, "I'll sometimes imagine when I walk through a park, if I could have sort of a 'rat vision,' there are all these tunnels under there that are occupied by rats. And from there the rats fan out."
The Telegraph report records rodent expert Professor Steve Belman stating that, "A female can give birth to a litter of say 6 to 12 young, and the next day she can mate and get pregnant again. There can be 6 to 12 babies coming out, and then you make the assumption that maybe half of those are females, and then within a couple of months they're mature, and they're going off and breeding. So this is how you can imagine populations get very high very quickly."
With the recent U.S. ban on many rat poisons and the UK's reports of poison-resistant "super rats," alternative rodent control methods are entering a renaissance. While the larger rat population problems are being handled by city and government professionals, homeowners and property managers have more alternatives than ever to protect their own spaces.
Dennis Tilles, President of Bird-X, Inc. notes, "No one wants to deal with the safety risks that traditional methods like poison and traps carry. But rats themselves are very dangerous and most people just want the rats out as soon as possible – with good reason – so they grab what they know. Thankfully more people are learning there's no need to compromise safety for effectiveness, in fact many times the safer method is more effective to begin with."
Bird-X manufactures rodent control products that are chemical-free and work by keeping the rats away in the first place, meaning the rats never even enter treated spaces to begin with. That means no bodies or messes to pick up, no stenches coming from the walls or attics, and a reduction in the risk of bacteria, viruses, and other diseases.
Bird-X, Inc. is the leading brand of humane pest animal and bird control products worldwide since 1964, and is dedicated to protecting human health, wildlife and the environment in which we all live. The Chicago-based company manufactures a complete line of unique pest control products with an unmatched focus on quality, efficacy, and customer service.
---
*Originally published on PRWeb: http://www.prweb.com/releases/2014/06/prweb11983252.htm
Written by Kelly Nelson, Bird-X Media Correspondent