Bird Control Solutions for Today's Environment.
Bird-X knows that pest birds and animals cause serious problems for businesses and homes worldwide. Our commitment to solving these problems without the use of dangerous chemicals and traps has set us apart since 1964. We are proud to offer pest and bird control products that are humane, environmentally friendly, and extremely effective.
Bird-X works with every major industry including the international pest control market, retail, manufacturing, transportation, and U.S. government facilities and federal agencies via the GSA Advantage pre-approved vendor program.
Pest & Bird Control Products
Bird-X Bird Control Products Save!
Our products save businesses and homeowners millions of dollars every year with environmentally-responsible products.

Prevent infestation

Avoid property damage

Stop the spread of disease

Decrease liability

No more costly cleanup of droppings

No need for toxic pesticides
Contact us today to find the pest or bird control program that's right for you, or shop for solutions right here on our website.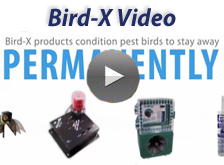 Watch the Bird-X Video!
Bird-X has been leading the bird control industry since 1964.
Watch this Bird-X Video to learn more about the importance of bird control, Bird-X products and how we can work together to solve your bird problems.
Bird-X offers a variety of bird control solutions for every pest bird problem.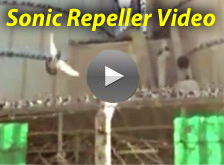 Sonic Bird Control in Action
See the sonic bird repeller in action – pest birds are affected instantly.
Recorded distress calls and predator cries warn birds to flee
Sonic bird control is safe, non-toxic, humane, and eco-friendly
Conditions birds to stay away long-term