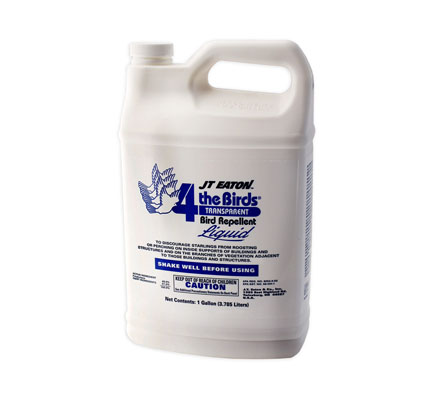 Loading...
Guaranteed to be manufactured to specifications & free from defect at the time of purchase.

4 The Birds: Repellent Liquid

Non-Toxic, Tacky Bird Repellent Liquid

Reduces Bird Damage

Inexpensive, Proven Solution
Keep pest birds from roosting or landing on any surface. This sticky, transparent liquid remains tacky after application has set.
For Pigeons, House Sparrows, Starlings, Gulls, Blackbirds, Cowbirds, Grackles, Woodpeckers, Crows, Ravens, & many more.
Use on trees, shrubs, vines, beams, & more
Apply with a power washer, hand washer, or a paintbrush
Non-toxic, sticky liquid makes surfaces sticky & uncomfortable to birds
Birds avoid the transparent substance like humans avoid wet tar! USE AS DIRECTED.
NET WEIGHT: 1 Gallon (3.78L)