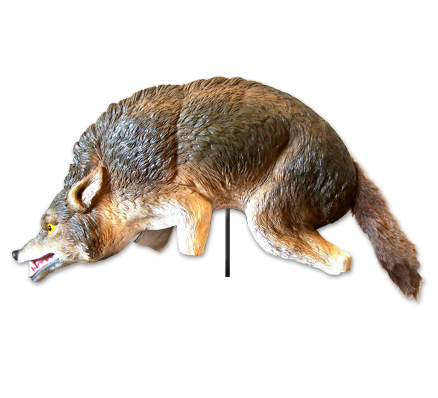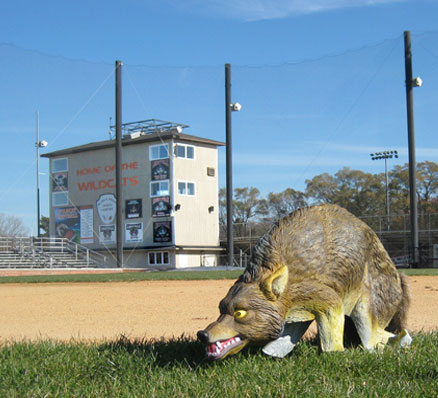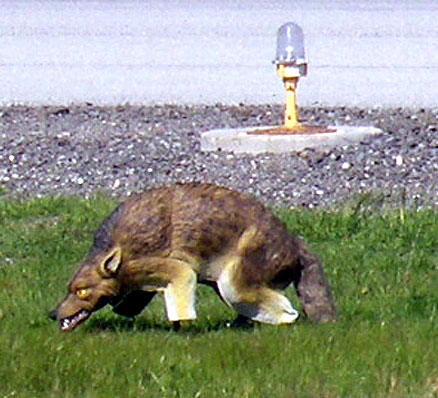 Loading...
Guaranteed to be manufactured to specifications and free from defect at the time of purchase.
3D-Coyote

Highly Effective 3D Visual Scare



Saves Money on Cleanup & Repair



Eliminates Bird & Small Pest Problems



Money-Back Guarantee
This menacing predator replica frightens geese, birds and other small pests away from open outdoor areas.

Design and moving fur tail gives lifelike presence

Visible from every angle for up to one acre

Aside from moving the unit occasionally, no maintenance is required
The "3D" structure makes the decoy visible from every angle, making it more effective than a traditional coyote silhouette cardboard cutout. It can also be effective at much longer ranges than sound machines, since bird vision is generally strong and can spot predators at great distances.
Testimonials

[We] purchased two coyotes this spring. They've been helpful in reducing the goose population and excrement on the sidewalks. I've been moving the coyotes to different locations on the school's lawn. This school is K-8 and has a detention pond on its property. Geese like to graze and feed here. Ducks have nested in the yard or near the pond.
–W.F. from Ann Arbor, MI

The 3D Coyote Replica does the job. We call him Mr. Coyote and my husband moves it around every couple of days to keep the geese convinced he is real. The geese start to land then the see Mr. Coyote and next thing you know, they are honking away and flying madly back up and away from our lawn. Success! It is also great for entertainment purposes. People driving by our house stop, backup and stare and point at Mr. Coyote. They seem to think he is real at first too!
–V. Gilde

Last winter, for the first time, we experienced a visit from a local flock of Canadian geese in our back yard. I ordered the 3D Coyote and it arrived within 4 days. I put it on display for the geese immediately and they abandoned our yard and stayed away for the rest of the winter. This winter, a couple weeks ago, they were back and I placed the coyote on the same spot the geese selected to hang out in our yard. Shortly after displaying the coyote the geese slowly departed over a period of one hour. They have not been back since. I make it a point to move the coyote every couple days a few feet in different directions, but keep it in the same general area. It works very efficiently for us, but now I've noticed the geese congregating in a neighbor's yard about 1/4 mile away. He's considering getting one too.
–Allen S. from Racine, WI

I purchased the Coyote Replica to scare off the Canadian geese from our shoreline. It has been out there for about 2 weeks and not one goose has been on the shore. The other day I saw the geese stay on the other side of the river looking over to see if the coyote was still there. I try to change positions every other day. For the price, this has been a good investment.
–Anonymous

I was skeptical at first because we've tried everything under the sun. We staked the 3D Coyote in a lidded plastic, rock-filled container. The coyote was set on our deck by the pool. I randomly moved it around. We have had less ducks in the yard and NOT ONE in the pool! They have sinced moved to our neighbor's pool. We've tried everything in the past four seasons, with no luck. The Irri-Tape is also flapping around the pool's edge and alas – no bird droppings either! Superb product. Worth every penny! Recommending to our neighborhood pool store manager.
–C. Williams
Reviews
Details
Predator replica
Repels pest birds and other small animals
3-dimensional structure and moving tail gives lifelike presence
360-degree visibility
Installs anywhere you can plant a stake
Relocate the unit regularly to increase effectiveness
Safe, humane, non-toxic, silent
Applications
Repels pest birds including geese, ducks and other waterfowl.
Effective where visible across up to one acre of land.
Recommended for use in large outdoor areas, such as:
Parks
Golf courses
Sports fields
Corporate grounds
Airport property
Etc
Benefits
Cut recurring cleanup and repair costs
Reduce health and liability risks associated with pest bird infestation
Save grounds and equipment from bird damage at low cost
Increase/maintain property aesthetics
Decrease nuisance for residents, workers, customers, etc.
Add & Combine
For maximum, sustained success in your bird control efforts, a synergistic approach is recommended. Synergy is the interaction of two or more forces producing a combined effect that is greater than the sum of their individual effects. We often recommend companion products – combining sonic repellent devices with visual scares or scent and taste aversions. This kind of multi-sensory attack is extremely effective in deterring pest birds from an area permanently.
Companion Products:
Specs
Unit dimensions: 24" x 9" widest point x 6" tall
Weight: 5 lbs